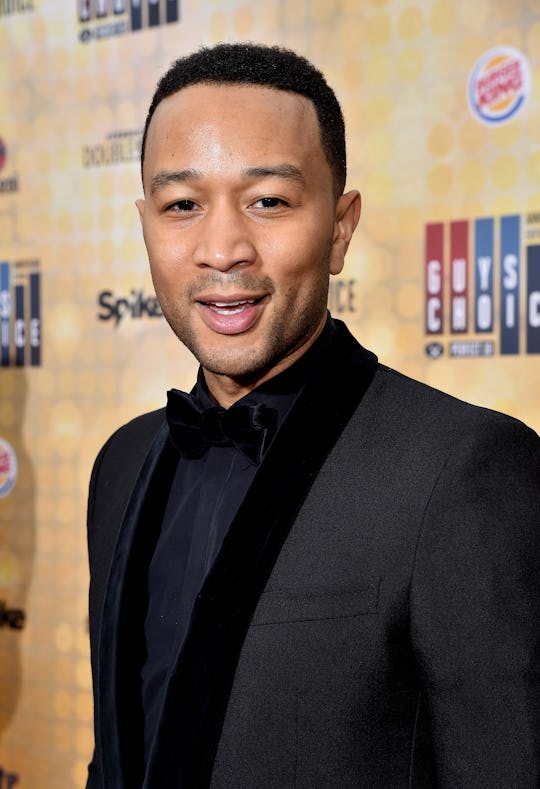 Mike Windle/Getty Images Entertainment/Getty Images
These Instagrams Show John Legend Is A Rockstar Dad
Seriously, who doesn't love John Legend? If you don't, here's a quick recap of some of his amazing qualities. And if you do, here's a recap anyway... because a reminder never hurt anyone, right? John Legend is an incredible grammy-winning musician, activist, feminist, executive producer, husband to Chrissy Teigen, and adorable new dad. Legend and Teigen's newborn baby girl, Luna, was born in April, and her pictures with her family have been too cute to handle. And in honor of Father's Day being around the corner, check out these Instagrams that show Legend is a rockstar dad.
A rockstar dad who is not one to keep quiet when internet trolls aggressively criticize Teigen. Back in April, trolls swarmed Teigen's social media accounts when she did something completely normal: Go out to dinner. The new mom was shamed for going out to dinner days after giving birth, and the added sexist-styled kicker in all of this was that Legend was also out to dinner too. But, unsurprisingly, no criticism came his way. The "All of Me" singer didn't let the sexist rhetoric go unnoticed. He took to Twitter to call the trolls out:
Funny there's no dad-shaming. When both of us go out to dinner, shame both of us so Chrissy doesn't have to take it all. We'll split it.
You tell 'em.
As for baby Luna, Legend and Teigen's Instagram accounts are filled with some sweet photos of her and her parents.
In an interview with People, captured by E! News, Teigen revealed that Legend is already a pro at one of their many parental duties (no pun intended). Apparently, Legend has the diaper-changing job down to a science.
"We never changed diapers before, so it's kind of new and fun for us," Teigen said. The model explained that Legend "loves the diaper change," and that he "does so much" when it comes to baby Luna. But surprisingly, given his talented singing skills and songs that became staple wedding songs – "All of Me" definitely made its rounds to numbers of wedding receptions, and rightfully so – Legend apparently needs a little work when it comes to baby lullabies.
"He doesn't really know how to sing to babies," Teigen said. But all is not completely lost, because the new mom explained that Legend "dances with her [Luna], and he's a good calming source."
It feels fair to add "family man" to Legend's long-list of redeeming qualities. This week, he gushed about his daughter's first visit with his mom. "My beautiful mother came this weekend to meet her 9th grandchild!" the singer wrote on Instagram.
Here's to Legend and hopes of future baby lullabies, more dancing, and more impressive diaper-changing tricks.