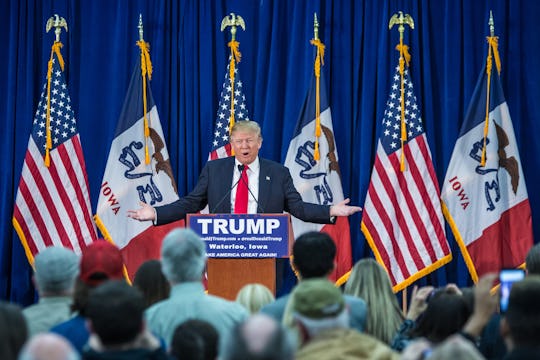 \Brendan Hoffman/Getty Images
These Iowa Caucus Tweets Will Make Your Night, No Matter Who Wins
The night politicos have all been waiting for is finally upon us. The Iowa caucuses on Tuesday night are said to be the most important primary event for both Democratic and Republican candidates. As any political junkie knows, however, the best part of watching any election is collecting tweets about its coverage. This year's Iowa caucus tweets about the candidates, the voting, and CNN did not disappoint. Even a few of the candidates themselves got in on the Twitter action.
Sure, there are lot of reporters and analysts on Twitter who can ably provide plenty of serious commentary about the results of the caucuses and explain what's going on. Because, if you honestly know every nitty gritty detail about how this crazy electoral system works, you get three gold stars. But in between brushing up on what's going on in the college towns or how Vermont Senator Bernie Sanders is stacking up agains Hillary Clinton, you're probably going to need a little humor.
Let's just be honest: Cable news coverage of events like the caucuses is out of control. It's a big night. But since there's a lot of waiting and speculation, the networks pull out all the stops. This is what Twitter was made for — political and media geeks just, well, geeking out with each other.
Some Called Out The Network's Enthusiasm
Others Just Are Not Sure How They Feel
And Lots Of Pronunciation Jokes
And Then This, Of Course
An exhilarating night, to be sure.