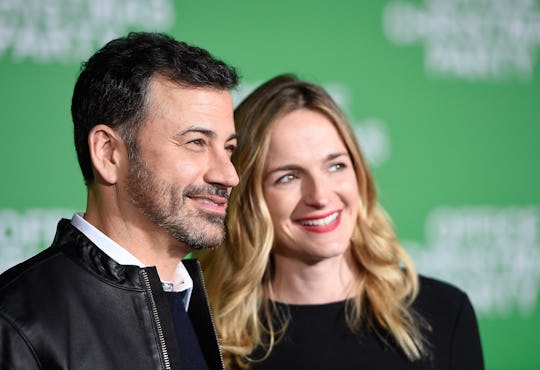 Matt Winkelmeyer/Getty Images Entertainment/Getty Images
You Have To See These Jimmy Kimmel Instagrams
Late-night host Jimmy Kimmel made headlines earlier this year after publicly opening up about his newborn son's health scare, and in doing so, he made a powerful statement about the importance of a comprehensive government health care plan on behalf of all parents of ill or medically fragile children. It was a heartfelt and emotional plea that made it very clear how much his own family means to him. But even if he hadn't endured the difficulty of having a sick baby, it'd still be pretty obvious that fatherhood is one of his most important roles. Jimmy Kimmel's Instagram shows he's a devoted dad — and that he has some pretty impressive skills when it comes to cooking for his kids.
Kimmel might be best known for his sense of humor and his nightly gig interviewing celebrities, but it turns out that he's also quite the whiz in the kitchen. According to People, Kimmel said in a recent interview that he actually learned to cook back in the '90s, while he was working as a radio host in Seattle. These days, despite his busy schedule, Kimmel told People he still does much of the cooking at home for his wife, Molly, and their two young kids, 3-year-old Jane and 2-month-old Billy. And honestly? His daughter's breakfast is basically artwork.
His Pancakes Are A Next-Level Parenting Win
Pancakes often seem to be the kind of thing that a lot of dads have totally nailed — my own kids are such big fans of their dad's pancakes, that I no longer even attempt to make them myself. But take a quick scroll through Kimmel's Instagram and it's clear that he definitely blows all the other dads out of the water when it comes to the griddle. That's because Kimmel — who is actually a talented artist, and has been an avid drawer since he was a young child, according to Entertainment Weekly — goes beyond the simple round flapjack and actually cooks his daughter's pancakes in the shape of her favorite characters.
According to TODAY, Back in February, Kimmel made Jane a Finding Dory pancake (in part as a shout-out to his pal, Ellen Degeneres) and shared it on Twitter. And it was about as cool as it sounds:
But his Instagram feed shows that the Dory pancake was far from an isolated incident. Much to his daughter's delight, Kimmel has also whipped up Cars-inspired pancakes, and Thomas The Tank Engine pancakes, too. (The secret to his creations? Kimmel tells People he "[adds] organic food coloring to pancake mix" and then uses a squirt bottle to make his designs.)
His Daughter Is His BFF
Another thing that's pretty clear from Kimmel's Instagram feed? He and Jane seem to have a lot of fun together. He recently shared a sweet photo of the two of them watching Jane's very first movie in a theater (naturally, he boasted about her making it the entire way through!), and in another fun snap, he shared a pic of his little girl at the beach, totally covered by her beach towel and hat, with the caption, "This is what my daughter Jane is wearing to the #Emmys..."
And She Seems To Be There For All Of His Big Moments
It's not always easy to be a dedicated parent when you're also juggling major work commitments, but from the looks of it, Kimmel seems to be happy to try and include his little girl whenever he can. In September, Kimmel posted a photo of the two of them working on some material ahead of his Emmys hosting gig, and quipped that Jane was his "best joke writer."
And backstage ahead of the Oscars in February? You can bet Jane was there to cheer her dad on. Kimmel posted a sweet photo of the two of them taking a moment for a good-luck fist-bump in his dressing room.
He's One Proud Papa
Jimmy Kimmel might be pulling double diaper duty these days as a dad of two young kids, but he also has two grown children — a 25-year-old daughter named Katie, and a 23-year-old son named Kevin — from his first marriage, according to Just Jared. Like her father, Katie is also a talented artist, and in November, the proud dad boasted about his first child in an Instagram post, when she sold some of her artwork at Pasadena Central Park (more of Katie's artwork can be found online on her website.)
It turns out that Katie also appears to be just as charmed by her dad's pancake creations as the rest of the world: in May, she posted a pic of a clown-shaped pancake her dad had made for her, with the caption, "My dad is an artist and this is his medium of choice."
Jimmy Kimmel may not have endeared himself in the hearts of American children when he encouraged parents to prank their kids by pretending to eat all of their Halloween candy (pretty sure I'd still be holding a grudge if it were me), but it seems pretty clear that, when it comes to his family, Kimmel is all about fatherhood. And life with a dad like Jimmy Kimmel would probably be an awful lot of fun.