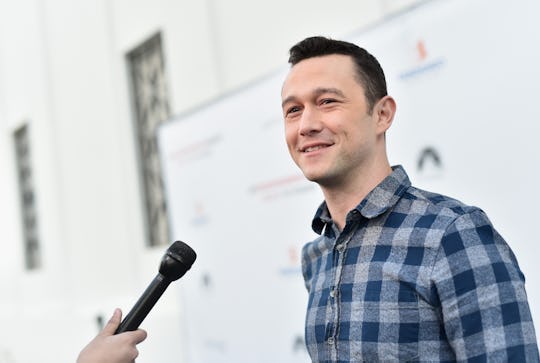 Emma McIntyre/Getty Images Entertainment/Getty Images
Joseph Gordon-Levitt's Parenting Quotes Are Awesome
Now that his family has grown by one, fans want to know everything Joseph Gordon-Levitt has to say about parenting and his bigger family. And while his quotes and anecdotes about fatherhood are rare, that in itself provides a bit of insight into his and wife Tasha McCauley's parenting style at home. With one parent who's a renowned actor — having starred in films like 500 Days of Summer, Inception, and Snowden — and another who has an impressive, less public, resume of her own, their take on parenting is unique for their own family.
Gordon-Levitt and McCauley recently welcomed a baby boy in June and are already parents to another son, who will be 2 years old next month, according to People. The happy family of four has always been extremely private about home life — and the 36-year-old actor has his reasons for it. And, from a protective parent's perspective, they make a lot of sense.
Starting with his relationship with McCauley, Gordon-Levitt has always respected her decision to stay out of the Hollywood scene and be known (or not known) for a more low-key career of her own. As People reported, during an interview with Howard Stern in 2013, the dad of two admitted that he doesn't "really like to talk about" his relationship in public.
"The girl that I'm with, she really doesn't want to be a part of that," Gordon-Levitt told Stern at the time of McCauley, who has a degree in robotics and an MBA in business education and research, according to The Daily Mail.
The 10 Things I Hate About You star has had the same approach with his kids. Since welcoming their first child back in 2015, Gordon-Levitt has made it clear that he won't be bringing his little boy to Hollywood events or flooding your news feed with pictures of his little guy (even though it would be amazing if he did). Instead, he wants his children to make the decision about whether they want to be in the public eye when they're old enough to do so.
"Being in the public eye is a great thing," he said during a 2015 interview with Live! With Kelly and Michael, as E! News reported. "It allows me to do what I love to do, which is act in movies, but it's a choice that I made." He continued:
My son, he's just a baby, you know? He hasn't made the choice to be in the public eye, and that's a choice that I would like him to be able to make when he's older, when he can think about these kinds of things and make that decision for himself. And so, for now, I'm just a protective dad, and I want to protect his privacy.
Gordon-Levitt is hardly the first celebrity parent to opt for privacy when it comes to their little ones. Power couple Ryan Gosling and Eva Mendes, for instance, have successfully managed to keep their two children pretty much out of the public eye since they were born. And Scandal star Kerry Washington never publicly announced either of her pregnancies, as HuffPost reported.
Some celebrity parents like their kids to soak up the limelight just like them, while others want this part of their world to be just their own — and either route is admirable. And, for now, it seems like Gordon-Levitt and McCauley with keep their special humans close to them.