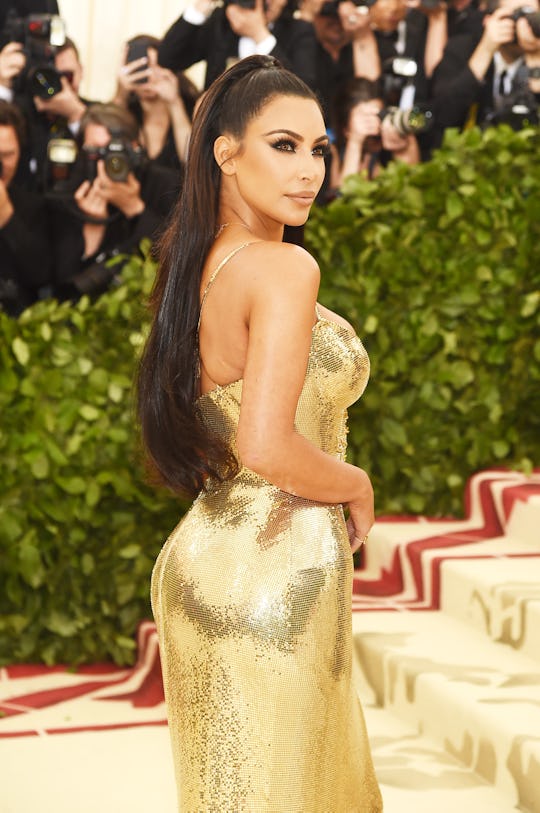 Jamie McCarthy/Getty Images Entertainment/Getty Images
Kanye West's Lyrics About Kim Kardashian On 'Ye' Are Pretty Revealing
On Thursday night in Jackson Hole, Wyoming, Kanye West's new album, Ye, was officially released into the world. Well, sort of. West presented the new album to a select crowd, at a listening party that was also live-streamed online, but it was not immediately made available for purchase and regular streaming. But now, services like Spotify have the album, so anyone can listen to the tracks and potentially ponder over their deeper meaning. But some Kanye West lyrics about Kim Kardashian on Kanye's Ye album don't need much interpretation at all — they're actually pretty self-explanatory.
West's latest album was a highly-anticipated project, especially in the aftermath of recent comments by the rapper that suggested that the enslavement of Black people in the United States was a "choice," according to CNN. A lot of people have been anxiously awaiting West's album to see if he address his comments further on Ye.
Well, fans don't have to wait any longer. The seven-track Ye album is out as of Friday morning, and includes guest appearances from Ty Dolla $ign, Jeremih, Kid Cudi, and 070 Shake, according to The New York Times. There's also a surprise feature by Nicki Minaj, according to PEOPLE.
One track in particular on Ye specifically references Kim — and it is indeed about those infamous "slavery was a choice" comments.
When West made his controversial statement, a lot of people wondered whether Kim and the other members of the Keeping Up With the Kardashians family were freaking out behind the scenes. According to West's lyrics, Kim, at the very least, was very concerned about what the comments would do to their image.
On the Ye song "Wouldn't Leave," featuring PARTYNEXTDOOR, Jeremih, & Ty Dolla $ign, West rapped, according to PEOPLE:
Wife calling screaming saying we're about to lose it all I had to calm her down 'cos she couldn't breathe/I told her she could leave me now but she wouldn't leave.
And later on in the song, West added:
This is what they mean for better or for worse huh?
Which seems to refer to marriage vows, which would clearly indicate West is talking about his wife in the song.
The line "I don't feel that she's mine enough" and other lyrics on that track could also be referring to Kim, but West ends the song by rapping the following, according to Genius:
For every damn female that stuck with they dude/Through the best times, through the worst times/This for you/And I know you and me.
So while "Wouldn't Leave" does appear to reference Kim and her reaction to the "slavery is a choice" comments, it also seems to be about any woman who "stuck with" their husband or partner through everything. Which is actually kind of nice, although I personally don't love it when women are referred to as "females" in that way.
And that's not the only controversial topic West touched upon on Ye. West also raps about his mental health, Russell Simmons, the #MeToo movement, and Stormy Daniels at various points, proving more than ever that he's not afraid to hit on hot-button issues in his music.
Chris Rock, Nas, Jonah Hill, Candace Owens, and other stars and entertainers were at the listening party for Ye, according to NME. They got an exclusive first listen to West's newest project, along with anyone watching the livestream at home. But now, it's available for anyone to listen to if they want to, as many times as they want to. Before the album was even officially released, Heavy reported that Ye would eventually be available on iTunes, Apple Music, and Spotify, so there are lots of options for West fans to check out his new album.
So if you've been waiting patiently (or maybe not so patiently) for West's latest album, your wait is over. Ye is available to listen to as of Friday morning, and if you specifically want to hear those lyrics about Kim that West wrote for "Wouldn't Leave," you'd better pick your favorite music service or app and get listening.