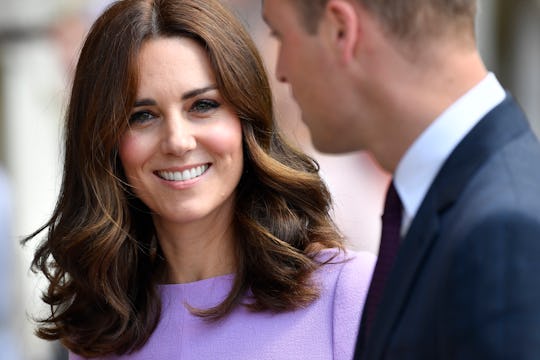 Alexander Koerner/Getty Images Entertainment/Getty Images
Kate Middleton's Motherhood Quotes Are Inspiring
Look, in this extremely divided world, there is very little that everyone can agree on. Politics, music, movies, books, and even food are all hot topics these days. However, there is one thing in this world that basically everyone can agree on besides the fact that ice cream is awesome. What might that be? The royal family, of course. Specifically, Kate Middleton. The 35-year-old duchess has proven herself to be the ultimate style icon, role model, and poised princess. On top of that, the mother of two is also poignant to a fault. So sit back, relax, and let these Kate Middleton motherhood quotes put you at ease.
Ever since Middleton wed Prince William in 2011, the world hasn't been able to get enough of the real-life Cinderella story playing out right before the public eye. And after Middleton gave birth to little Prince George in 2013, watching the Duchess become a mother has become yet another one of the very few things that everyone can agree is just lovely.
And with the duchess giving birth to Princess Charlotte back in 2015, Middleton's motherhood words of wisdom are even more relatable. Here are some of her best moments and quotes about what it means to be a mother:
When She Got Real About The Struggles That Come With Motherhood
Both Middleton and Prince William have made it a priority to speak up about mental health. Their "Heads Together" campaign focuses on just that, and speaking on camera for the charity, Middleton discussed all the chaos that comes with being a first-time mom, according to CNN:
Nothing can really prepare you for you the sheer overwhelming experience of what it means to become a mother. It is full of complex emotions of joy, exhaustion, love, and worry, all mixed together. Your fundamental identity changes overnight. You go from thinking of yourself as primarily an individual, to suddenly being a mother, first and foremost.
She Knows Motherhood Can Feel Lonely
At the Global Academy in Hayes, west London, Middleton spoke again about the importance of keeping up with your mental health in the midst of motherhood, according to People.
It is lonely at times and you do feel quite isolated. But actually so many other mothers are going through what you are going through, but it's being brave enough to actually reach out.
She Knows The Important Values To Instill In Children
Obviously, parents want to teach their children how to be kind and generous to others, but it isn't always easy. Middleton recognizes that challenge, but also acknowledges that traits such as those are of the utmost importance, according to People.
My parents taught me about the importance of qualities like kindness, respect, and honesty, and I realize how central values like these have been to me throughout my life. That is why William and I want to teach our little children, George and Charlotte just how important these things are as they grow up. In my view it is just as important as excelling at maths or sport.
She Understands That Children's Mental Health Should Be Taken Seriously
While of course, Middleton knows that it's important for mothers to take care of themselves, she also knows that her kids deserve respect as well. Speaking of her passion for mental health awareness, Middleton said, according to Hello.
People often ask me why I am so interested in the mental health of children and young people. The answer is quite simple - it is because I think that every child should have the best possible start in life.
She Recognizes How Privileged She Is As A Mother
As another part of her "Heads Together" campaign, Middleton spoke of the physical and mental challenges of motherhood, according to People.
Personally, becoming a mother has been such a rewarding and wonderful experience. However, at times it has also been a huge challenge. Even for me, who has support at home that most mothers do not.
Obviously, Middleton has led a very privileged and fortunate life, but that doesn't mean she hasn't learned a few lessons along the way. And her awesome motherhood quotes prove just that, as well as the fact that she truly is an international treasure.