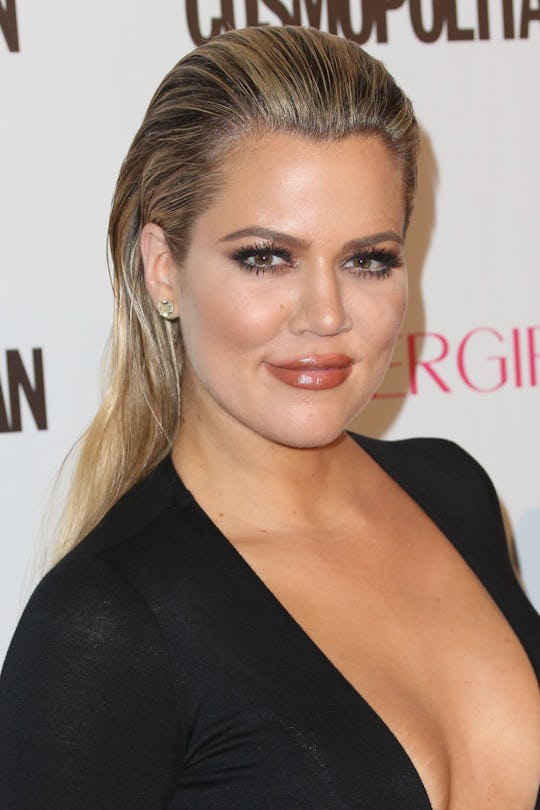 Frederick M. Brown/Getty Images Entertainment/Getty Images
These Khloe Kardashian Baby Name Theories Will Crack You Up
Keeping Up With the Kardashians isn't just a TV show; it's also quickly becoming the biggest pop culture challenge of our time. The youngest generation of Kardashian (and Kardashian-adjacent) children is reportedly expanding by leaps and bounds, and it's pretty easy to lose count of all of them now. But the top question on everyone's mind is what this latest batch will be called. Look no further, because one of these Khloe Kardashian baby name theories is definitely korrect. I can't say which one for sure, but I've totally covered all the bases, so pick one and make a bet with your best friends before the big reveal.
In case you're not up to speed, here's the latest: Kim Kardashian West and her husband, Kanye West, are expecting a girl via surrogate in January. The couple already has two kids, North and Saint. Kylie Jenner is reportedly pregnant with her boyfriend Travis Scott, and is rumored to be due in February, according to Billboard. And now multiple sources are saying that Khloe and her boyfriend, Cleveland Cavaliers player Tristan Thompson, are having a baby in March (a representative has not returned Romper's request for comment). The extended family also includes Kourtney Kardashian and Scott Disick's kids, Mason, Reign and Penelope, as well as Rob Kardashian and Blac Chyna's daughter, Dream. That's a lot of wacky names to compete with! Here are the best contenders so far:
Khrysalis
Because much like a caterpillar turning into a butterfly, the latest Kardashian is slowly metamorphosing from a single cell to a fully-formed human (and will continue to drastically change its appearance throughout adulthood, if it's anything like its family).
Kadillac
Because that's a very klassy name.
Khaleesi
Thompson has one child already; his son Prince was born in December 2016, according to People. But this kid is clearly very important, so she can pull rank on her older brother by having a higher-ranking royal moniker. Besides, Game of Thrones baby names are super hot right now.
Khyati
It's an Indian name that means famous, and you're kidding yourself if you don't think that's spot-on.
Khavia
Another Indian name. Not only does this one sound like "caviar," which is super fancy-pants, it means "dream," which would be a not-so-subtle way to stick it to Rob and Chyna by not only stealing their baby name, but improving it. Who says baby names can't be petty? Now, on to boys' names...
Khrome
If Khloe names her kid after the world's most popular web browser, she might be able to get her nursery sponsored by Google. The company's already running everything else; why not sponsor a Kardashian?
Ka-ching
The Kardashian baby boom just so happens to coincide with the 10th season of Keeping Up With the Kardashians; surely this will help with the ratings. Now, I'm not saying that Kris Jenner planned her daughters' simultaneous pregnancies to benefit the family's reality show, but some fans on the internet have certainly fallen for the rumor.
King
Take that, Prince and Reign. King outranks all of you.
Khrist
When you're uncle calls himself "Yeezus" and your cousin is called "Saint," there's only one way to top them (well, two, really, but there's no way to shoehorn a "K" into "God").
Steve
Honestly, this would be the most shocking one of all. Nobody would ever predict such a bland, meaningless name, and Khloe would finally be able to accomplish what her older sister, Kim, has long been attempting to do: break the internet.
The only way Khloe isn't choosing one of these names is if she's having twins.
Watch Romper's new video series, Romper's Doula Diaries:
Check out the entire Romper's Doula Diaries series and other videos on Facebook and the Bustle app across Apple TV, Roku, and Amazon Fire TV.