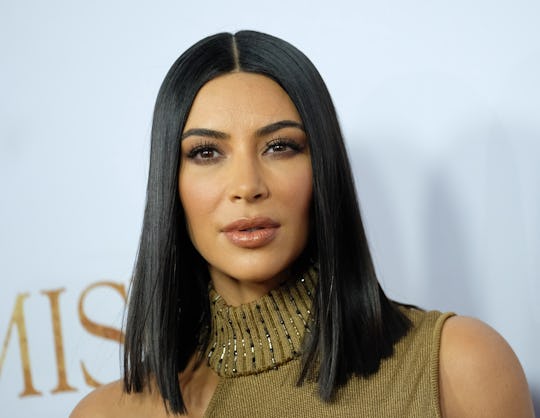 CHRIS DELMAS/AFP/Getty Images
Here Are All The Updates We Have On Kim Kardashian's Pregnancy
Even if you don't particularly care about them, it can be hard not to keep up with the Kardashians. The famous reality TV show family seems to be everywhere these days, especially with big news from the family — like the fact that three of the Kardashian/Jenner daughters may all be pregnant at the same time — hitting the media all at once. One of the Kardashians, Kim, is expecting a child with husband Kanye West, via a surrogate, and fans are anxiously awaiting the latest Kim Kardashian pregnancy updates from the family and the reality star herself.
Kim Kardashian, Kylie Jenner, and Khloé Kardashian are all reportedly expecting around the same time, according to Billboard. But it was Kim's pregnancy news that made waves first. In June 2017, Kim and Kanye reportedly hired a surrogate to have another child, according to TMZ. And in July, that surrogate was reported to be three months along, according to US Weekly. But the couple still had not actually confirmed anything at that point, despite rumors making the rounds on almost every news outlet, publication, and social media feed. At the time, the premiere of Keeping Up With the Kardashians was looming on the horizon, so fans hoped Kim would reveal the pregnancy then. (And, of course we now know that she did.)
Of course, the rumors continued — because as much as people like to bash the Kardashians, they wouldn't be famous if someone wasn't watching their show and people weren't still talking about them. Despite the fact that people scrutinize every bit of Kardashian baby news, they still freaked the h*ll out when Us Weekly reported that Kylie Jenner may be pregnant as well.
Sources close to the Kardashian family said Jenner is pregnant — and due in February — back in September, CNN reported. But that hasn't been confirmed officially by the family, and reps for Jenner did not respond to Romper's request for comment.
And just when fans of the Kardashians may have thought they'd get a break, rumors that Khloe and her NBA player boyfriend, Tristan Thompson are expecting a baby also started circulating, according to PEOPLE. That also hasn't been officially confirmed by the couple, however, US Weekly reported.
So what do we actually know about the Kardashians and their baby news? Not much, to be honest. But there was a recent update to the Kardashian pregnancy rumor mill that has fans paying attention.
On Thursday, Kim tweeted a trailer for the upcoming season of Keeping Up With the Kardashians that got fans talking, according to The Washington Post. In the premiere episode, which aired on Sunday, she said, "What happens every time I say, 'Guess what?'" to Khloé over a FaceTime video chat. "You're pregnant — or the person's pregnant," her sister responded. Kim then reportedly said:
We're having a baby!
In the premiere, Kim said she is actually expecting via a surrogate. That means she and Kanye will be adding a new baby to their family — which currently includes a daughter, North, 4, and a son, Saint, 21 months, according to CNN.
Kim has been pretty open about her pregnancy struggles, and even wrote a piece on her website about dealing with high-risk pregnancies. So the idea that she might be using a surrogate for a third pregnancy is not totally out of the blue. Whatever works for Kim and Kanye to expand their family as they see fit is fine, and it's not really anyone else's business why they may have chosen that route.
There's really not much in the way of updates on Kim's pregnancy news outside of that trailer, even as publications and news outlets look for every scoop about her pregnancy, or information on her sisters reportedly being pregnant. But one thing's for certain — whatever news about this family breaks next, it'll be sure to draw some attention.