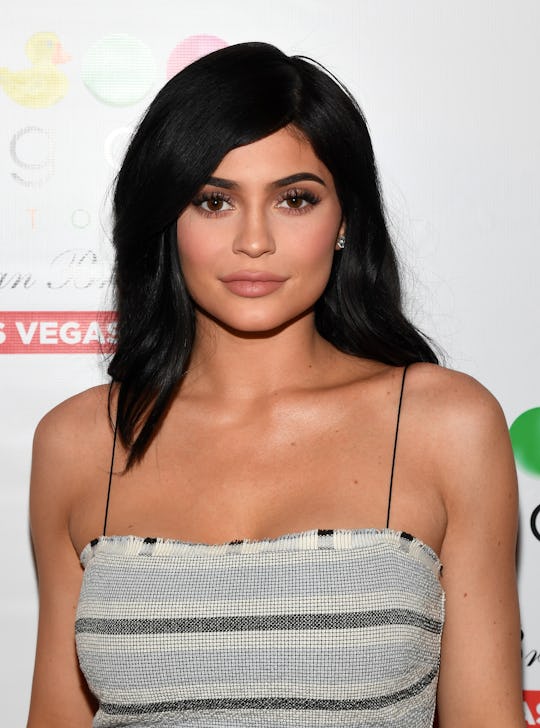 Ethan Miller/Getty Images Entertainment/Getty Images
These Kylie Jenner Baby Updates Will Make Sure You Don't Miss Any Adorable Stormi Photos
Kylie Jenner may have expertly kept her pregnancy under wraps for nine whole months. But now that baby Stormi is finally here, it seems she's not holding back. Jenner and her boyfriend, Travis Scott low-key welcomed their first child together on Feb. 1. Three days later (on Super Bowl Sunday), the Keeping Up with the Kardashians reality star confirmed the pregnancy rumors that had been rampant since September — with a birth announcement. The new mom revealed she had given birth to a healthy baby girl, and then proceeded to make her followers' lives by sharing an 11-minute video of her pregnancy journey. Since then, many more baby Stormi posts have followed on Instagram, Snapchat, and Twitter. Here are the latest Kylie Jenner baby updates, in case you've had a difficult time keeping up with the new mom's steady stream of posts.
If you've lost track, baby Stormi turned 1 month old on March 1 — and the proud new parents made sure to mark the occasion with the help of social media. Jenner took to Instagram to share the first-ever shot of herself holding Stormi, ET Online reported. She captioned her post, "My angel baby is 1 month old today." Perfection.
New dad Travis Scott also posted a photo of their 1-month-old daughter on Snapchat, Us Weekly reported. "My lil mama 1 month today," the rapper, along with a close-up of Stormi's outfit, which featured the word "DADDY" written in the middle of a red heart. "Her favorite [parental] unit of course," he joked.
Two days later, on March 3, both Jenner and Scott shared the same video — which showed their newborn's face for the very first time, People reported. Although a pacifier is hiding the bottom portion of her sweet face, it's still perfectly clear that Stormi is adorable AF. (As if we had any doubts.)
On March 6, Jenner also shared a short video of Stormi sleeping on her Instagram Story, Elle reported. Because honestly, what could be cuter than a chubby-cheeked, snoozing baby. Answer: Nothing. Just look at those perfect lips! I have a feeling Stormi could be a perfect model for Kylie Cosmetics when she's (much) older.
Over the weekend, Jenner shared yet another shot of baby Stormi, Cosmopolitan reported. Except this time, it was her best friend, Jordyn Woods, who was cradling her daughter. The Lip Kit mogul posted a series of photos on Snapchat Saturday — and followers who weren't looking closely might have missed the video clip entirely. "Can they get any cuter?" the adoring mom captioned the sweet moment.
Us Weekly reported on Monday that Jenner shared photos of Stormi with Jenner's grandmother, Mary Jo Campbell. "I mean..does it get any better than this?" Jenner captioned the post. The proud great-grandma looks absolutely enamored with the newest addition to her ever-growing family.
So far, though, none of Jenner or Scott's baby updates have come close to this precious photo that officially announced their daughter's name. As E! Online reported, the closeup shot of the newborn grasping her mama's finger is the most-liked Instagram photo all time. "Stormi Webster," Jenner captioned the historic moment.
I have to be honest: Since Kylie Jenner and Travis Scott kept Jenner's pregnancy so private, I wasn't sure what to expect from the new parents after they finally announced their big news. Would Jenner return to social media with makeup and fashion posts, pretending like her entire world didn't just change? Would they attempt to keep Stormi out of the spotlight entirely? Although Jenner and Scott did seem to lie low for a few weeks, ever since their daughter reached her 1-month "birthday," they seem more comfortable with sharing her with the world. And I for one certainly have no complaints. Keep those adorable baby posts coming, guys!
Check out Romper's new video series, Bearing The Motherload, where disagreeing parents from different sides of an issue sit down with a mediator and talk about how to support (and not judge) each other's parenting perspectives. New episodes air Mondays on Facebook.