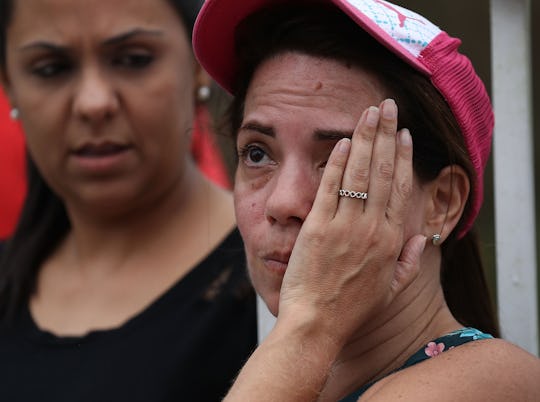 Joe Raedle/Getty Images News/Getty Images
These Lists Of Supplies To Send To Puerto Rico Show What's Needed Most
On Wednesday, Hurricane Maria made landfall in the U.S. territory of Puerto Rico. The devastating storm knocked Puerto Rico's entire power grid out, and The New York Times reported that residents could be without electricity for four to six months. For the people of Puerto Rico, the prospect of being without electricity is a terrifying one, especially for those who have children to care for. As Puerto Ricans try to make do with this terrible situation, people are wondering how they can help out. If you want to contribute to relief efforts, here are the lists of supplies to send to Puerto Rico, because every bit of generosity counts.
It goes without saying that the situation in Puerto Rico is critical. As President Donald Trump spends his days coming up with new taunts for North Korea's Kim Jong Un, the people of Puerto Rico are suffering. The Chicago Tribune spoke to one woman who wondered how she'd be able to keep her insulin refrigerated without power, while other people have expressed worry about living in high temperatures without reprieve.
A Puerto Rican mom of four explained, according to The New York Times:
This is really affecting me. I have four children and the youngest is 6 months old. We are preparing for six months, maybe even a year without power. All the infrastructure has collapsed. Everything we had before the hurricane is beyond reach.
Puerto Rico Gov. Ricardo Rosselló reiterated his people's concerns on Sunday night, according to the Washington Post:
We still need some more help. This is clearly a critical disaster in Puerto Rico It can't be minimized and we can't start overlooking us now that the storm passed, because the danger lurks.
So, what supplies do Puerto Ricans need the most? Although the need for batteries and water are obvious, here's a more comprehensive guide to helping out Puerto Rico.
The Friends Of Puerto Rico For Maria Hurricane Relief
The Friends of Puerto Rico for Maria Hurricane Relief have set up an Amazon wish-list covering a wide range of supplies, including everything from canned goods to common pain relievers. Although some of the items have already been purchased, there are still a lot of supplies that need to be bought. If you would rather donate your items in person, people who live close to 1031 N. Vermont St. in Arlington, Virginia, can drop off "bottled water, baby wipes, hand sanitizer, canned and dry foods for humans and pets, cots, first aid kits, mosquito repellent, blankets, pillows, laundry detergent, and dish soap," according to WTOP. All donations will be accepted until Friday, Sept. 29.
More drop-off locations can be found here.
Send Supplies To Airways
Airways magazine has partnered up with the company 2C Media to launch an initiative called "OPERATION CARE-LIFT PUERTO RICO," according to Airways. People can donate supplies to "Airways / 2CMedia at 12500 Biscayne Blvd. Suite 700 North Miami, Fl 33181 c/o Nikki Coloma 305-672-8229," or they can send supplies via Walmart or Amazon. Another option is to donate to the company's GoFundMe account. All donations will be accepted until Sept. 29.
Here's a list of supplies Airways says are needed the most:
Gatorade
Pedialyte
Personal Care Kits: toothpaste, toothbrushes, tampons, soap, shampoo
Water Purification Tablets
Diapers
Flashlights and Small Radios (Solar/Battery Operated)
Small Tents
Sleeping Bags
Mosquito Repellent and Bug Spray
Canned Non-Perishable Foods
First Aid Kits
Baby Formula
Gloves
Hand Sanitizer
Trash Bags
Towels
Donate To Firehouses In New York City
According to NYC.gov, 17 firehouses and EMS stations are collecting supplies for the people of Puerto Rico. Here's a list of items the firehouses are looking for:
Diapers
Baby food
Batteries
First Aid Supplies
Feminine hygiene products
In addition, the website states that "all donated items must be non-perishable, not second-hand, nor contain liquids of any kind. Open or unsealed donations of food or hygiene supplies will not be accepted. At this time, only the five items listed above are being collected."
The Empire State Relief And Recovery Effort For Puerto Rico
According to NY.gov, people can drop off "batteries, flashlights, portable lanterns, diapers, baby wipes, cases of water and feminine hygiene products," at drop-off sites across the greater New York State area. Drop-off sites will be "open every day between 9 a.m. and 6 p.m.," according to the website.
If you have the resources available, please donate supplies to the people of Puerto Rico. Puerto Rico is in a state of crisis, and it desperately needs all the help it can get.
Watch Romper's new video series, Romper's Doula Diaries:
Check out the entire Romper's Doula Diaries series and other videos on Facebook and the Bustle app across Apple TV, Roku, and Amazon Fire TV.