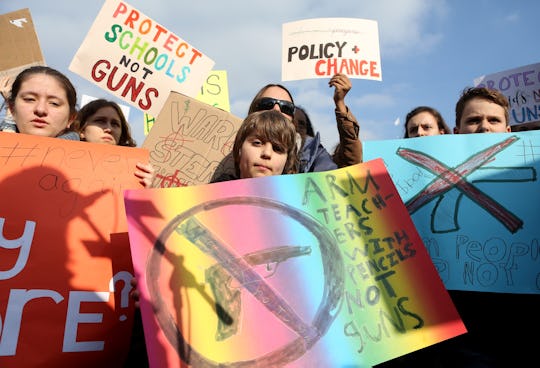 Adam Berry/Getty Images News/Getty Images
These March For Our Lives Photos Are Proof That People Seriously Want A Change
The March For Our Lives is officially underway! On Saturday morning, March 24, millions of students and their families across the nation gathered to protest the current state of gun safety in the U.S. (Spoiler alert: It's alarmingly lacking.) Although the largest protest is currently going down in Washington, D.C., there are actually more than 800 events happening around the world. And these March For Our Lives photos are proof that people seriously want a change.
This incredible movement is a direct response to the mass school shooting that unfolded in Parkland, Florida, on Feb. 14. During this unimaginable act of violence, a 19-year-old former student entered Marjory Stoneman Douglas High School with a semi-automatic assault rifle that he legally owned. The result? A total of 17 students and teachers were murdered in a place where they should feel the most safe. Since then, a group of Parkland shooting survivors have tirelessly worked to bring about real change to gun safety laws. And today's March For Our Lives is the culmination of more than a month of hard work — and a collective outrage that gun violence has somehow become the accepted norm in the U.S.
To put into perspective just how massive the March For Our Lives was in Washington, D.C., alone, here's a birds-eye view of the crowd that gathered on our nation's capitol. Yeah, Americans aren't messing around anymore.
As apparent by the photos on Twitter, today's March For Our Lives included a wide range of participants, from high school, middle school, and elementary students — as well as children who are too young to even start formal schooling yet.
And plenty, it seems, made it a family/multi-generational affair.
If you're having a difficult time deciphering what's writing on the sign, below, it reads: "When your leaders act like children and your children act like leaders, you know change is coming." Amen.
Older protesters showed up for the March For Our Lives, too — from parents and grandparents, to teachers, to veterans who support gun safety, and those who have survived previous school shootings.
And regardless of rain, snow, or shine, protesters stuck it out to make sure their voices were heard.
CNN caught up with a protester in Washington, D.C. — who also happens to be a teacher who survived the mass shooting at Sandy Hook Elementary School in Newtown, Connecticut back in 2012. "We lost 20 children and 6 adults, 154 bullets in five minutes and nothing was done," Lesie Gunn told the network as she prepared for the march to begin. "We had voices and we advocated ... but if these kids now can make the voice that makes the change, we have to do this. Adults need to get on board with them and follow them because they're speaking the truth."
Parkland shooting survivor David Hogg — who has remained one of the lead voices for gun safety measures since the tragedy — gave interviews to reporters Saturday morning in Washington, D.C. "We have a right to our lives and we're going to fight for that," Hogg said this morning, according to The Guardian.
And many other Marjory Stoneman Douglas High School survivors were present, as well. This included an Parkland freshman — who is among those injured during the mass shooting — pushed in a wheel chair by an officer who responded to the scene.
"To anybody who thinks their voice doesn't matter, it does," Samantha Goldberg, a 17-year-old Parkland student, told NBC News on her way to the Washington, D.C., march. "Every single voice comes together and makes a huge impact. This is just the beginning. This march is the first step in a long process, but ultimately there's going to be a huge change. I mean, there's not half a million people here for nothing."
The South Florida Sun-Sentinel reported that the National Rifle Association (NRA) posted a Facebook statement Saturday morning in response to the March For Our Lives. "Today's protests aren't spontaneous," the NRA said. "Gun-hating billionaires and Hollywood elites are manipulating and exploiting children as part of their plan to DESTROY the Second Amendment and strip us of our right to defend ourselves and our loved ones." Hmm. Sounds about right, coming from the NRA.
And I'll give you one guess as to where President Donald Trump is as all of this is unfolding. Yep, he's at Mar-a-Lago, of course, as USA Today reported. "We applaud the many courageous young Americans exercising their First Amendment rights today. Keeping our children safe is a top priority of the President's," deputy press secretary Lindsay Walters told the publication.
Clearly, so many people across the nation are dead-serious about gun safety in the United States. The March For Our Lives is sending a strong message to the NRS, lawmakers, and the POTUS: Enough is enough. And today is only the beginning.