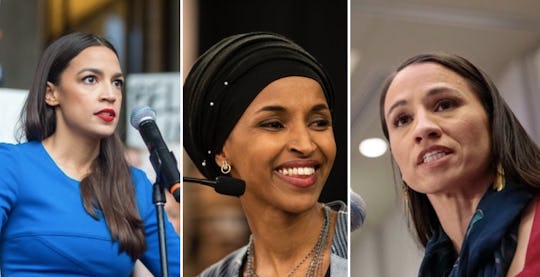 Stephen Maturen/Getty Images News/Getty Images Scott Eisen/Getty Images News/Getty Images/ Whitney Curtis/Getty Images News/Getty Images
These Midterm Wins Make America Look More Like The Nation We Want To Raise Our Kids In
Midterm elections aren't usually viewed as massively high-stakes political showdowns that spark long lines at polling stations, but this year, it was clearly a very different story. With President Donald Trump warning supporters about a refugee caravan purportedly looking to "invade our country" at the southern border, and Democrats promising a massive "blue wave" at the polls to win control of the House of Representatives, it felt more important than ever to cast a ballot. The night wasn't a runaway success for either party, but there is still much to celebrate, especially these eight midterm wins that make America look more like the diverse and progressive nation so many of us desperately want to see our kids grow up in.
The Trump presidency has definitely been incredibly polarizing, and while many believe his rhetoric is nothing short of racist fear-mongering, others clearly appear to identify with his view of what's really ailing the nation. The 2018 midterm election results certainly seemed to reflect that: as expected, the Republicans maintained control of the Senate, while Democrats regained control of the House, for the first time in eight years according to CNN, even despite also enduring some particularly upsetting loses, including Beto O'Rourke in Texas, and Andrew Gillum in Florida.
But the big picture numbers only tell part of the story, because there are actually many really impressive wins from last night that deserve our attention.
Rashida Tlaib
The Democratic candidate won the seat vacated by former Detroit Rep. John Conyers, according to The Detroit Free Press, and in doing so, she not only became the first Palestinian-American woman to ever be elected to Congress, but also one of two Muslim women to win in the 2018 midterms.
Ilhan Omar
The other Muslim candidate to earn an historic win? Minnesota Democrat Ilhan Omar, who won her district with 78.2 percent of the vote, according to The New York Times. But like Tlaib, her heritage also makes her unique: Omar has become the first Somali-American to ever be elected to Congress — and one who actually first came to the country as a refugee more than 20 years ago, according to CNN.
Betsy Driver
In New Jersey, first-term Flemington Borough Councilmember Betsy Driver successfully won her bid for Flemington mayor, which now makes her "the first and only openly intersex [mayor] in the United States," according to Victory Fund. Prior to running for office, Driver worked as a journalist, and also founded Bodies Like Ours, an online intersex peer support organization that also launched Intersex Awareness Day.
Sharice Davids & Deb Haaland
After their wins Tuesday night, Kansas Democrat Sharice Davids and New Mexico Democrat Deb Haaland have now become the first Native American women to ever be elected to Congress, according to CNN. And if that weren't already enough, Davids also makes history for being the first openly-LGBTQ member of Congress from Kansas.
Ayanna Presley
In another big win for women of color, Ayanna Presley has become the first black woman in Massachusetts to be elected to the U.S. House of Representatives, according to The Guardian. But during Presley's victory speech Tuesday night, she made it clear that the win was only the beginning, according to The Boston Globe, and told the crowd, "None of us ran to make history; we ran to make change."
Jared Polis
Though the midterm elections were certainly a big day for women and POC, LGBTQ candidates also landed some seriously significant wins. In Colorado, Jared Polis became the first openly gay man to be elected governor, according to TIME — not only in Colorado, but in any state. At a campaign event in June, Polis said his bid for office "gives Colorado an opportunity to stick a thumb in the eye of Mike Pence, whose view of America is not as inclusive as where America is today."
Alexandria Ocasio-Cortez
New York's Alexandria Ocasio-Cortez easily won a seat in the House of Representatives Tuesday, and at only 29 years old, she's now become the youngest person ever be elected to the House, according to HuffPost. In her victory speech Tuesday night, Ocasio-Cortez said that her campaign represented "a movement ... for social, economic and racial justice," and said, "This is what is possible when everyday people come together in the collective realization that all our actions … are powerful, worthwhile and capable of lasting change."
Statistics-wise there are many other reasons to be really encouraged by the midterm results though: a record number of women — 256 — had their names on the ballot Tuesday, according to CNN, and a record number of women are also thought to have won House races (98 women, 33 of whom were newly-elected). And in some cases, female candidates faced off against each other: according to CNN, there were 32 two-women contests in Tuesday's election. What's more is that voter turnout was also particularly strong, according to The New York Times, and in some states, turnouts were considered to be "at least at 20-year highs."
The midterm elections were certainly a nail-biter, and overall, the results only served to reinforce just how divided the nation had become politically. But after nearly two years of political decision-making that left far too many Americans marginalized, seeing the Democrats take the House with diverse candidates fighting for inclusion finally feels incredibly hopeful as we work to give our children a safer, and more respectful, future.