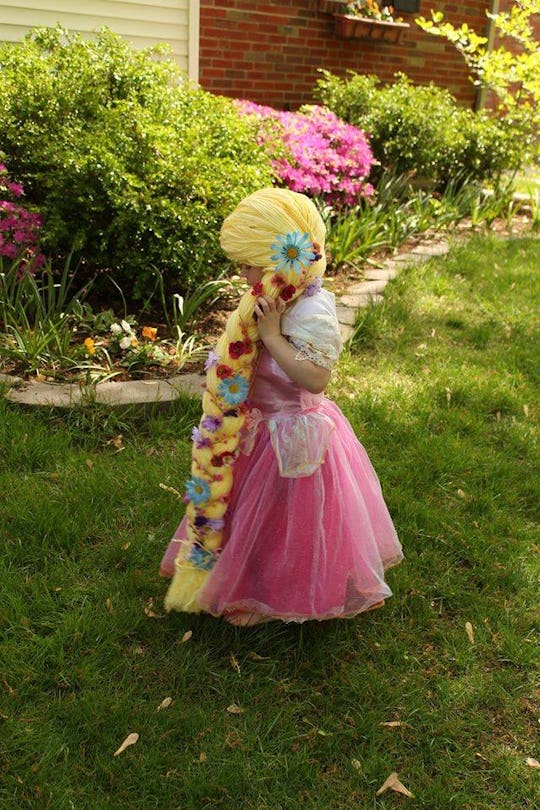 These Moms Are Making Princess Wigs For Kids With Cancer, So The World Isn't Entirely Horrible I Guess — PHOTOS
Prepare yourself for the feel-good story your day definitely needed. Almost everyone has been effected by cancer one way or the other. Whether they've fought the good fight themselves, or known someone who has, the devastating disease creeps into nearly every person's life. Holly Christensen knows this better than most, which is why her and her partner Bree Hitchcock have created The Magic Yarn Project, through which they crochet beautiful princess wigs for children with cancer. Holly Christensen and Bree Hitchcock are both mothers of three, two boys and a girl. Fun fact: They're also the ultimate badasses in caring and compassion. Holly is a nurse, and spent a number of years as a cancer nurse in the past, which gave her the drive and passion for this now-thriving project. 
The Magic Yarn Project started when Holly's college friend's daughter was diagnosed with cancer at just two years old. Holly told Romper:
"Knowing how sick she would get and how difficult it would likely be for her to lose her long, blonde, curly hair, and knowing that the chemotherapy would make her bare scalp too sensitive and tender to wear a traditional wig, I made her a Rapunzel yarn wig on a soft crocheted beanie and sent it to her."
That simple act of kindness — and the fact that her friend's little girl absolutely loved her yarn wig — lit a fire inside Holly, and The Magic Yarn Project was born. 
Holly posted on Facebook in September, asking for a yarn donation so she could continue to provide princess wigs to pediatric cancer patients, and her post went viral. She received donations from all over the country, and even as far away as Scotland and Australia. After people started contacting her asking how they could donate, Holly set up a GoFundMe page, which to date has raised over $6,000.00. They've made over 80 wigs and have even enlisted the help of a local women's prison and their crochet club, who have crocheted over 150 beanies for The Magic Yarn Project's cause.
If people would like to contribute, but don't have the opportunity or funds to donate to The Magic Yarn Project, Holly and her team are working on making tutorial videos and "wig kits" so that communities can hold their own wig workshops or people can make their own princess wigs at home.
Honestly, how awesome is all of this? 
Currently, Holly and Bree are looking to turn The Magic Yarn Project into a non-profit organization, making it easier to meet the demand and provide these wigs to young girls fighting cancer across the country, and even the world. But until that happens, the requests for wigs keep coming and the need for volunteers and donations continues to be vital.
Holly continued, "As a cancer nurse I have learned that I can't save the world. I can't take the horrible disease away, but I can do something. I can bring some light into cancer patients' lives and help provide a magical escape during an otherwise dark and difficult time."
If you'd like to donate to this wonderful cause, you can give on The Magic Yarn's GoFundMe page.
Images: Courtesy of The Magic Yarn Project(6)