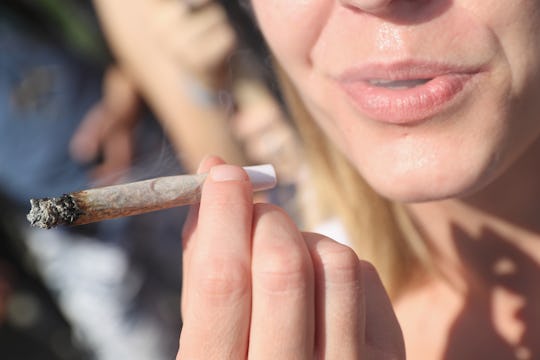 Sean Gallup/Getty Images News/Getty Images
These Moms Who Smoke Pot Have A Powerful Message For Their Critics
Although marijuana use has been legalized and, in turn, more normalized in various states across the nation, there is still a lot of controversy surrounding it and it's often referred to as a taboo stimulant — especially for parents who use it. That's why these moms who smoke pot have a powerful message for their critics: they say it makes them better parents. And their arguments for smoking marijuana, while taking care of children, actually make a lot of sense.
"Mommy needs a joint just as much as mommy needs a glass of wine,'' Kaycee Bawdon — a mom of four from California, where recreational pot use is legal — told Maria Shriver on TODAY during an interview on Tuesday. "You can still be a good parent and use marijuana at the same time."
The 30-year-old mom — who runs a blog called "The Cannavist Mom" — is one of the many parents in the United States who like to smoke pot as part of their daily routines. In fact, according to the Centers for Disease Control and Prevention, figures from 2016 showed that American parents are slightly more likely to use marijuana than their teenage kids.
The Washington Post reported that it this might be due to the "prevalence of medical marijuana," which is now allowed in more than 20 states and Washington, D.C.
But, despite marijuana being more accessible and more widely used nationwide, parents who are open about their pot use face a good deal of criticism. And Bawdon is no exception. She told TODAY that a mother of one of her daughter's friends "banned her child" from going to their home after learning, via her blog, that she regularly smokes marijuana.
"She saw that I was a cannabis mom and then all of a sudden, 'Savannah's mom's a pothead and I don't want you hanging out with her anymore,''' Bowdon told TODAY of the backlash she's faced.
Bawdon told TODAY that she believes marijuana "helps treat pain and depression" and also helps her relax and boosts productivity. She also said that she prefers to smoke marijuana rather than pop prescription pills for her migraines because they make her feel "foggy and disconnected."
And other parents have the same mindset. One mom told The Guardian that smoking marijuana makes her "a better, calmer, more interactive parent," while another mom said that it helps her "relate to my daughter on her level."
In a piece for Scary Mommy, another mom wrote that smoking pot is "by far the healthiest way I've found to unwind."
The CDC does advise that it has "strong evidence" that marijuana use may lead to addiction, breathing problems, and short-term declines in memory and attention span as well as other effects. And because smoking in itself is unhealthy, there are other health concerns to think about, too. But, it's also important to note that alcohol can also harm your health by contributing to liver disease risk and various cancers, according to the CDC.
Essentially, these moms want people to know that smoking pot helps them be better parents — just as some moms like to enjoy a glass of wine to unwind after a hectic day. Of course, everything in moderation is key. But, no matter what you use to relax or cope with the trial and tribulations of parenting, parents shouldn't face judgement, whether they're buying some legal marijuana or a bottle of Merlot.