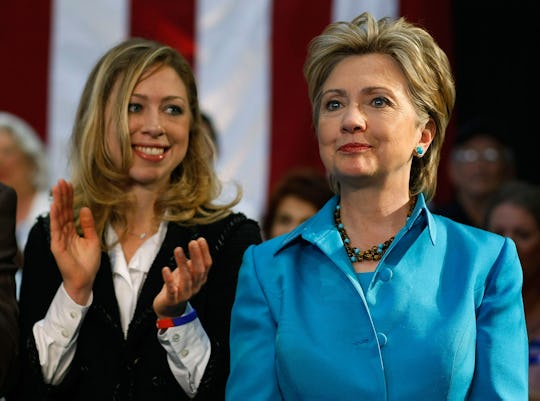 Joe Raedle/Getty Images News/Getty Images
These Mothers Voting For & With Their Daughters Are So Inspiring
America is still far from a feminist utopia, but this Election Day offers a chance to reflect on the fact that women have come a long way, baby. For the first time in U.S. history, citizens are able to vote for a woman president, and the stories of mothers and daughters voting together in the 2016 presidential election are sure to warm even the coldest, nastiest woman's heart. Remember Chelsea Clinton's speech at the Democratic National Convention? It's basically that, multiplied by 50 million or so.
Some mothers are sharing that they're proud to take their daughters with them to vote in their first ever election. The Twitter account I Waited 96 Years is posting stories of mothers and grandmothers who were born before women even had the right to vote. Women are bringing their young children with them to the polls to witness their mothers cast history-making votes, so they'll remember Election Day 2016 for the rest of their lives. Because make no mistake, every vote cast today will affect all daughters. We are voting for the future of every little girl in America, and those voting for Hillary Clinton are telling those girls that yes, they truly are equal.
It was less than 100 years ago that mothers and daughters stayed home on Election Day while men decided the future of their country. And black women in the South couldn't effectively vote until the Voting Rights Act was signed into law a mere 51 years ago. But now women who remember growing up in a time when their country silenced their voices are proudly standing side by side with their daughters as they change America for the better once again.
Mothers are voting with their daughters to show them that this is their country, and they deserve a president who will stand up for their rights, not brag about grabbing their crotches. And also that women look damn good in a suit.
After more than 200 years of white men running the show, a new generation of children are growing up under the leadership of our first black president, and fingers-crossed, our first woman president. Parents have always told their kids that they can do anything, but now, we're finally proving it.
Every parent hopes to give their child a better world than they had, and bringing them to the polls is how we show them that we're making good on that promise.
This will be a day that adults remember forever, but my hope is that it won't even stick out in the minds of the kids who watched their mothers vote today, because by the time they're grown, a woman electing another woman president won't even be remarkable. That's the future America's daughters deserve.