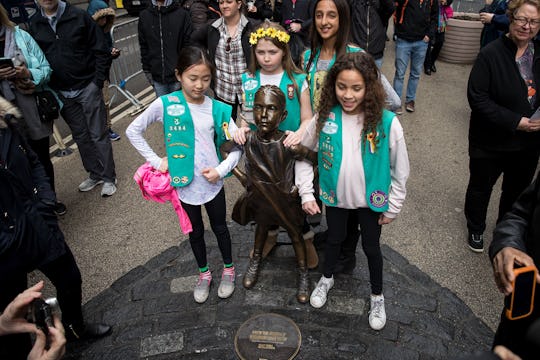 Drew Angerer/Getty Images News/Getty Images
These New STEM Girl Scout Badges Are So Encouraging
Girl Scouts are looking toward the future and have an array of cool badges to show for it. The new STEM Girl Scout badges in particular are an awesome way to help girls get involved in science, technology, engineering, and math. An emphasis on these fields proves once and for all that STEM isn't just for boys, and that girls are fully ready to lead the way.
This marks the Girl Scouts' "largest programming rollout in almost a decade," and it's for such a good reason. Now, the scouts can "build robots and race cars, go on environmentally conscious camping trips, create algorithms, collect data in the great outdoors, [and] try their hand at engineering," the blog on the organization's website shares. Truly, girls from kindergarten through high school can all work on their tech-related pursuits, with a cohort of friends along with them. Combining environmentalism, math, and tech, this initiative shows that STEM is a fun, diverse field with so many options to choose from, using 23 new badges as evidence
In designing their new, STEM-focused programming, the Girl Scouts had some help from a few key organizations, including Code.org, SciStarter, GoldieBlox, and the Society of Women Engineers. This support ensures that scouts and their leaders are getting the proper training that they need.
So why the current emphasis on helping girls foray into STEM? In comparison to men, there are far fewer women in STEM fields. Research shows that among college freshmen, 27 percent of men intend to major in engineering, math, statistics, or computer science, compared to only 8 percent of women.
Often, STEM majors and careers are seen as a boys'-only club. Even though women make up about half of the U.S.' college-educated workforce, just 29 percent of scientists and engineers are women. Seeing as the STEM field is growing at a massive rate, girls and women should be given all the tools required to set themselves up for success.
These positive new changes have been spearheaded by the Girl Scouts' new leadership. Sylvia Acevedo, CEO of the Girl Scouts as of May 2017, is a rocket scientist, so naturally she's insistent on bringing STEM to the scouts. As a 7-year-old, Acevedo was a scout herself, and built a hobby rocket to earn her very own science badge with the encouragement of a troop leader. Acevedo went on to work for NASA, so it's fair to say that Girl Scouts changed her life, and now she wants to be able to spread that impact even further. "If you have a basic tech understanding, you will succeed in the 21st century," she explained to CNN.
Mastering skills helps to empower young women. Seeing that STEM is an increasingly important field, it's refreshing that the Girl Scouts are taking it among themselves to encourage interest in that sector as well, to set girls up for lifetimes of success.