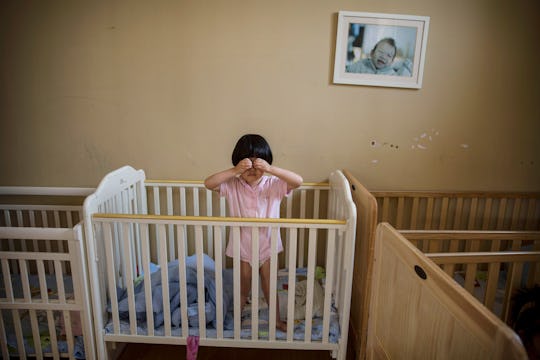 Kevin Frayer/Getty Images News/Getty Images
These Nursery Products Are Contributing To Injury
More infants have been injured by everyday objects than in the past. What's worse is that the products that are injuring them aren't objects meant for adults that a baby accidentally managed to be hurt by: they're actually products necessary for babies. So which nursery products are reportedly contributing to infant injuries? The American Academy of Pediatrics released a report on Monday that children under 3 are increasingly injured by common nursery products.
The products that caused the most injuries were baby carriers (which accounted for about 19 percent of injuries), cribs and mattresses (18 percent), strollers and carriages (16 percent), and baby walkers, jumpers, or exercisers (16 percent).
Babies were most likely to injure their heads or necks (they account for about 40 percent of injuries). Which makes sense, because the younger a baby is, the bigger the head in proportion to the rest of their body.
"We have achieved great success in preventing baby walker-related injuries by improving the design of the product and instituting better safety standards," Dr. Gary Smith, director of the Center for Injury Research and Policy and author of the report, said in a statement. "We now need to aggressively apply this approach to other nursery products. It is unacceptable that we are still seeing so many injuries to young children from these products."
There was a 23 percent increase in injuries to infants that were caused by nursery products between 2003 and 2011, according to The American Academy of Pediatrics. The report also shows that there are 69,300 emergency department visits by children less than 5 years old because of nursery products.
That number isn't far off from the number of children under the age of 5 who were injured because of toys, which the Consumer Product Safety Commission reported was 88,700 in 2015.
The report could not explain why there was an increase in injuries, but there are likely several factors. The increase in injuries among infants from nursery products may be because there is an increase in concussion identification by doctors and caregivers. Parents are also more aware about concussions themselves, and know to take their baby to the doctor.
Most of all, there are simply more baby products now than ever: it's a $23 billion industry in the United States, according to Racked. But this research doesn't mean you should throw away your stroller just yet (after all, it might become kind of hard to schlep around your baby).
Tracy Mehan, a research manager at the Center for Injury Research and Policy, stressed the importance of reading the manual that comes with your crib or stroller. "It can be really exciting to bring home a new product, and you want to try it out and use it right away," Mehan told NPR. "But taking a few minutes and look at [the manual] to see how [the product] works, where to use it and confirming the it's the right one for your child's age and size can prevent mishaps."
Joyce Davis, President of Keeping Babies Safe, told Romper that parents should make sure their baby's crib meets new 2012 crib safety standards. She also advised removing "all soft items from crib including traditional crib bumpers, pillows, blankets, comforters and toys."
It's also important to pay attention to recalls: nursery products were second only to clothing among the categories of recalled children's products, the website Kids In Danger reported. More injuries doesn't necessarily mean more danger — it really means that parents are being more aware and are taking their kids to get the care they need after they're hurt, and that's a great move forward.