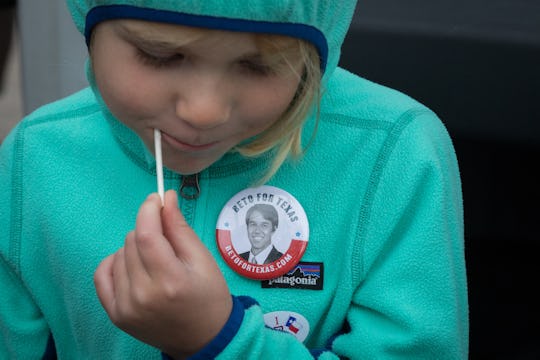 Loren Elliott/Getty Images News/Getty Images
These Parents Took Their Kids To Vote, But Kids Thought They Were Going Elsewhere
Election Day is pretty tense this year, but it doesn't mean that there's not also some sweet, lighter news to share as well. While many adults were up and at 'em this morning to vote, the nation's kids had another idea — and it had nothing to do with the polls. These parents took their kids to vote, but there was a very a common misunderstanding. As it turns out, the word "vote" sounds a lot like "boat" and there were some very sad faces when children across the United States found out they weren't going hitting the high seas when they showed up to their polling places.
From the mouth of babes, as they say. And it wasn't just an isolated incident. Parents across the country posted funny anecdotes about their visit to the polls that ended in disappointment because there were no boats, no water, no sea, and no lakes.
Even comedian and late night talk show host Seth Meyers got in on the act. He captioned his Tuesday morning Instagram post:
"Our son was disappointed because he thought we were going to 'boat' but otherwise a success! #Vote"
And one little girl was so excited, she even shoved her bathing suit into her winter coat pocket. Her face is priceless. Mom Michelle Steward posted about the mix-up on Twitter:
"After the 20th time of correcting Ruby, this is the moment she realized we were voting... not boating. She even has her swimsuit in her coat pocket. We voted! #govoteorboat #lifewithruby"
McKay Coppins, staff writer at The Atlantic posted this on Twitter:
"My wife and I got back from voting and found our 5yo in tears that she didn't get to come. So I took her to the polling place and gave her a little patriotic talk about America and democracy. On the way back she told me she thought mom had said we went 'boating.'"
To which a fan responded with a totally awesome, and appropriate, gif:
But all cuteness aside, there are very important reasons for taking your kid to vote, even if they can't quite grasp the concept.
"Like many parents, I'll bring [my seven-year-old] with me to vote tomorrow, along with the 4-year-old, just as I went with my parents as a child," wrote Amy Joyce, a parenting writer and editor for The Washington Post. "Learning by living is exactly what Election Day is about. We talk a lot in our family about making the world a better place, and tomorrow morning is one example of that."
Experts say to take advantage of your child's excitement and to teach them, at an age-appropriate level, how important the right to vote is in the United States, as Dr. Andrea Bastiani Archibald, a developmental psychologist for the Girl Scouts of America noted in a piece that the Girl Scouts posted on its websites.
Some parents think voting is way over kids' heads — that politics has nothing to do with their world and something they will be bored by, but that couldn't be farther from the truth. Voting is about using your voice to stand up for what you believe in. I'm pretty sure that all of us as parents, regardless of our political leanings, want our children to grow up knowing that their thoughts and opinions matter.
It's fair to say that all of the U.S. is in the same boat today, with hopes that the midterm will spark some much needed change to our political climate. Now whether that boat is literal, or figurative, is still up for debate among the preschool crowd. Happy voting!