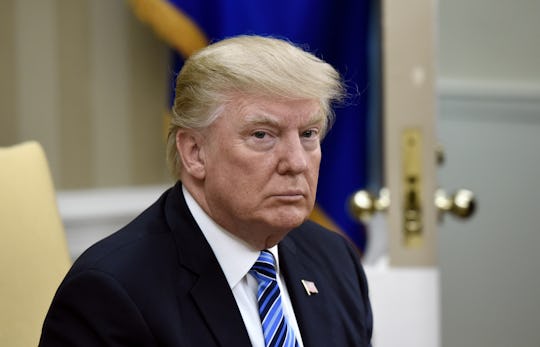 Pool/Getty Images News/Getty Images
These Parents Will Now Be Targeted By Police
The same day President Donald Trump's travel ban went into effect, the White House has rolled out a new anti-immigration action that impacts children fleeing violence. In particular, these parents will now be targeted by police thanks to Trump's policy meant to "disrupt and dismantle" human smuggling operations.
According to the Associated Press, the U.S. Immigration and Customs Enforcement officials confirmed Thursday that federal agents will start to arrest parents and other relatives they believe smuggled their children into the United States. The agency's new "surge initiative" will target adult sponsors of unaccompanied children who authorities believed were brought into the country by paid smugglers. An ICE spokesperson told AP that the enforcement action will hold accountable "sponsors who have placed children directly into harm's way by entrusting them to violent criminal organizations," Talking Points Memo reported.
The initiative comes nearly five months after U.S. Department of Homeland Security Secretary John Kelly proposed a new order to prosecute parents who used traffickers to bring their children into the country, according to McClatchy D.C. The same proposal suggested that unaccompanied minors later reunited with their parents or relatives in the United States would no longer be protected against deportation, McClatchy DC reported in February.
According to Talking Points Memo, ICE will place children whose sponsors were arrested either with a "verified relative or guardian," or in the custody of the Office of Refugee Resettlement, which cares for unaccompanied immigrant kids. A field specialist for the ORR told McClatchy DC Thursday that the office started receiving calls over the weekend from "scared and confused parents" who've received unexpected visits from ICE agents inquiring about their children and demanding entry into their home. The employee said that parents are detained once they open the door or leave the house, adding,
The kids are being used as bait at this point.
The Trump administration's "surge initiative" is a dangerous policy that ignores why children may be smuggled into the United States in the first place. According to AP, nearly 170,000 unaccompanied immigrant youth have been placed with adult sponsors in the United States and the U.S. Virgin Islands since October 2013. As New Republic reported in 2014, these children, most of whom are coming from Central American countries, are fleeing escalating gang violence. For example, United Nations data at that time showed Honduras' murder rate to be the highest in the world, according to New Republic.
Immigration advocates are concerned by the impact of this new policy on immigrant families. Wendy Young, president of Kids in Need of Defense, told AP,
Arresting those who come forward to sponsor unaccompanied children during their immigration proceedings, often parents, is unimaginably cruel. Without caregivers to come forward, many of these children will languish in costly detention centers or be placed in foster care at great expense to states.
These kids escaping to the United States are desperate and ripping them away from their homes will not "fight human trafficking." This new enforcement action is punishing kids for wanting to survive.