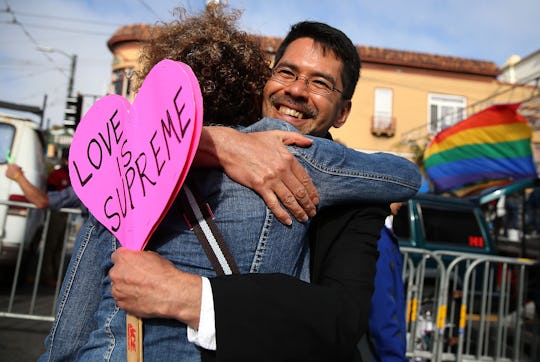 Justin Sullivan/Getty Images News/Getty Images
These Photos After SCOTUS' Same-Sex Marriage Decision Show How Moving The Day Was
When the Supreme Court ruled in favor of same-sex marriage last year, it was an immediate celebration. The photos after SCOTUS' same-sex marriage decision show just how joyful and excited everyone was. It's been a year, but it's still moving to remember the few days following the decision — especially as it came down right before the official Pride celebrations dates, the last weekend in June, in remembrance of the Stonewall Inn riots. It wasn't just any Pride last year: it was awesome.
Pride is a chance to honor and celebrate the LGBTQ community and think about the struggle for LGBTQ civil rights, so having a very specific, very important victory to was a specifically awesome feeling. And in the year since the Obergefell v. Hodges ruling on June 26, 2015, same sex marriages are way up. Because obviously. According to a recent Gallup poll, 38 percent of cohabiting same-sex couples were married before the landmark decision. That's jumped to 49 percent in the last year. Even with the increase, same sex marriages seem to be leveling off. The data shows that in the months following the ruling, many couples decided to pull the trigger, but that seems to be slowing.
But it's always nice to go back and remember how much fun and how great the celebration of the ruling was.
Everyone Was Feeling The Love
Even the puppies got into it.
It was emotional for everyone.
Making it super official, the White House was lit in up to celebrate LGBTQ pride.
The passing of same sex marriage in the Supreme Court was a very, very big step for the LGBTQ community, and America overall. But there is still a lot of work to do when it comes to LGBTQ rights. The Equality Act still needs to be amended to clarify the language in the anti-discrimination bill to include permanent protections regarding sexual orientation and gender. There are also laws like North Carolina's HB2, which prohibits transgender individuals from using the bathroom that corresponds to their gender that needs to be repealed.
LGBTQ individuals still face every day discrimination and violence towards the community happens every day, whether it's a teen being bullied in school or something more large scale and tragic, the June 12 shooting at the Pulse nightclub in Orlando. So while it should be fun to celebrate the one year anniversary of the same sex marriage ruling this weekend, it's also important to remember that the fight's not over yet.