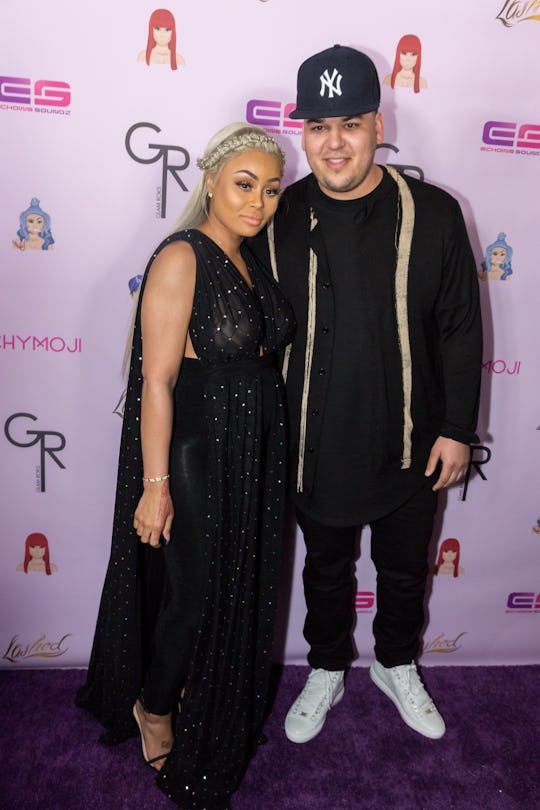 Greg Doherty/Getty Images Entertainment/Getty Images
The KarJenners Threw 2-Year-Old Dream Kardashian The ~*Dreamiest*~ Birthday Bash
If there's anything that the KarJenner women excel at — other than, you know, being business mavens and lipstick connoisseurs — it's throwing a good party. Their skills were truly on full display this past week as Kris, Kourtney, Kim, Khloé and Kylie threw their brother Rob Kardashian's daughter the fairy princess party of her dreams. Thanks to the magic of Instagram Stories, these photos from Dream Kardashian's 2nd birthday party are now available for all of us to see, and it was precisely as perfect as you'd imagine.
On Nov. 10, Dream turned 2 years old, and her family took to social media to commemorate the moment. Her mother, Blac Chyna, wrote on a rare Instagram post to her daughter. "To my Dreamy, today is your 2nd Birthday and one day when you are older you will read this and know how much I love and cherish you," she began. "I wish you the most fulfilling experiences on your journey, blessings that overflows on your hands and the courage to pursue your 'dreams.' As your mother I hope happiness and peace will follow you every step of the way. Happy Birthday to my beautiful and smart babygirl!!!!!"
Dream's grandmother, Kris Jenner, also posted a photo, writing: "Happy birthday to our sweet angel Dream! It brings me so much joy to watch you grow into the most beautiful, sweet, kind-hearted and loving little girl. We love you so much!!" Kim Kardashian West likewise posted a photo of her holding Dream while she was crying, and wrote on Twitter: "My baby Dream, Happy Birthday! We've come a long way since this pic lol! I love our snuggles. Saint loves you so much & so do I!!!!"
The rest of the KarJenner women showed their birthday love by throwing Dream a beautiful blue fairy party with Rob, her father. Though Blac Chyna chose to celebrate her daughter's birthday prior, it's clear that Dream is so, so loved.
A Fairy Tee-Pee Was Propped Up
According to Kylie Jenner's Instagram Stories, there was a vine-wrapped tee-pee set up in the middle of the living room with pillows and other cushions, on which the kids could play.
The Birthday Girl Wore Tulle
Aunt Kim Kardashian-West shared a photo of the birthday girl's special outfit, which included a floor-length tulle dress, flower head wrap, and flower bodice.
All Her Favorite Aunts Attended
Aunt Khloé Kardashian uploaded a few selfies with the birthday girl. Those with discerning eyes will notice that in them, Dream is snacking on none other than a Powerpuff Girls popsicle. (If you know, you know.)
Dream Was Gifted A Sparkly Blue Bentley
In keeping with the blue theme — and the overall lavish lifestyle of the KarJenner women — baby Dream was gifted not only a toy automatic car, but a Bentley that was covered in blue crystals. Because of course.
There Were All Kinds Of Amazing Desserts
Never ones to skimp on amazing food choices, Khloé posted a few shots of the food table at the party, which included a blue birthday cake, and all kinds of other ice creams, pastries, donuts and cookies.
Everyone Wore Fairy Wings
According to Kim's IG Story, upon entering the party, guests were instructed to grab a set of pink fairy wings and "fly," in keeping with the party's whole theme.
Real-Life Fairies Even Made An Appearance
Of course, what's a KarJenner bash without IRL fairytale characters? (Kim and Kourtney have also hired real "mermaids" for daughters North and Penelope.) At this party, however, it was all about the fairy life, and two of them, dressed in full flower dresses and wings, were sure to attend.
Gifts Were Opened Under Butterfly Decorations
Because a blue sparkling Bentley was surely not enough, Khloé snapped a photo of more gift boxes underneath dangling butterfly decorations, where the birthday girl presumably opened them.
The Birthday Girl Had The Princess Day Of Her Dreams
This photo from aunt Kylie Jenner shows an aerial view of Dream's beautiful tulle dress. (No word yet on who chose it, or whether it was custom made for her big day.) Either way, it's abundantly clear that Rob and Chyna's little girl is so incredibly loved by her extended family, and she's so lucky to have them.