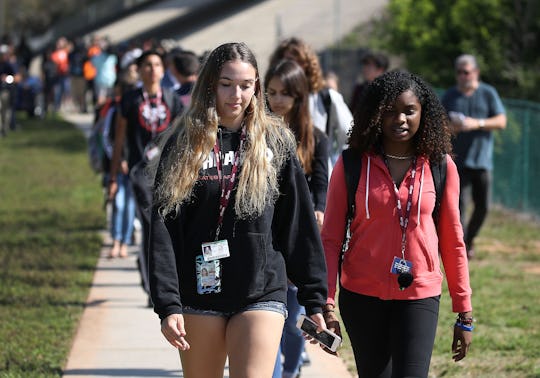 Joe Raedle/Getty Images News/Getty Images
These Photos From the National School Walkout Will Give You So Much Hope
Friday is National School Walkout day in the United States. The event was set to take place at 10 a.m. local time for any school that wanted to participate, and was specifically scheduled on the 19th anniversary of the Columbine High School shooting in Colorado. Images of demonstrations around the country are going viral on social media, and there are plenty of photos from the National School Walkout that will give you a lot of hope for the future when it comes to gun law reform and an end to the grim trend of gun violence in schools and elsewhere in America.
The Walkout Planning Guide on the official National School Walkout website noted that each event could include 13 seconds of silence to honor the 13 killed at Columbine. The guide also suggests that walkout organizers talk about voter registration, which proves that these kids are looking to the future when it comes to gun laws and policy.
And speaking of the future, I for one was very moved by a lot of images coming out of the event, because they show that these kids really care about the future of their country and about taking action. Young people getting politically involved can only be a good thing, if you ask me.
When it comes to photos from the walkout, the image above may not be super moving at first glance. It doesn't depict a crowd of students holding thoughtful protest signs, or reading off speeches, or doing a "die-in" demonstration.
But what it does show is student Justin Blackman surrounded by his school peers, when just a month ago, Blackman walked out of class for a walkout day in March and found himself alone, according to CNN. This time, Blackman wasn't the only one who participated at his school, and that's really heartwarming.
Blackman tells Romper:
I felt a sense of accomplishment...I had a group of Middle/Elementary kids and I interviewed them and they all knew the cause and that it is now important.
And Blackman was far from the only one to post photos of a walkout event to Twitter. Kyle O'Leary of tkocreative also captured some images in New York City.
"Students are protesting gun violence & rallying for a change in gun laws to prevent school shootings," CBS reporter Leanne DeRosa said on Twitter, "They say they want to feel safe in school!"
All the videos and photos of walkouts around the country are simply awe-inspiring.
Friday's protest is just the latest of many coordinated gun violence reform efforts organized across the country by young people — and one of the last officially planned on a nationwide level, according to Vox.
But something tells me these kids aren't going anywhere. Given the turnout at the March For Our Lives and the last walkout event, it's clear that a lot of young people care about this issue, and they're more than willing to speak out about it.
A 16-year-old named Lane Murdock was behind the National School Walkout on Friday, and over 2,500 schools from New England to Hawaii planned to participate, according to CNN. American students at Oxford and Cambridge universities in the United Kingdom, as well as high schoolers in the island territory of Guam, were reportedly also expected to be a part of the event.
Unfortunately, the same day as the National School Walkout, another school shooting occurred at a high school in Florida, according to The Independent. One student was injured in the incident, which took place in the same state as the shooting at Marjory Stoneman Douglas High School, where 14 students and three staff members died.
The latest shooting just proves that addressing gun violence in the U.S. is heartbreakingly relevant. It's long past time that we all pay attention.