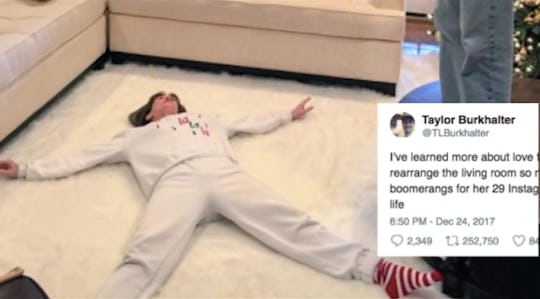 These Photos Of A Mom Making Snow Angels Are Going Viral For The Best Reason Ever
People will do some pretty crazy things in the name of love. However, I think one husband in particular deserves some serious recognition this holiday season. An "Instagram husband" was doing what he does best — standing around recording his wife accomplishing something weird/amazing/fashionable — when his son, Taylor, snapped photos of him "on the job." Now, viral photos of a mom making snow angels while her patient Instagram husband recorded it is serving as proof that true love exists.
Glamour reported that Taylor's mom, Libby, is a Beachbody fitness coach who lives in Louisiana. (She has also been "happily married to Steve" for 32 years, according to her website.) Because of the warm temperatures in that region, Libby making her own "snow" for the video was the only way she would have been able to create her joyous snow angels. And she was determined to make that happen. On Christmas Eve, Taylor, who was reportedly home for the holidays, tweeted a series of photos of Steve recording Libby making carpet snow angels in their living room. "I've learned more about love from watching my dad reluctantly rearrange the living room so my mom can make snow angel boomerangs for her 29 Instagram followers than anything else in life," Burkhalter wrote.
Little did he know that both his tweet and his mother's Instagram video would go viral overnight. Taylor's photos were shared by the Love What Matters Facebook page and pretty much took off from there.
Just look at his dad's face! If that isn't true love, I'm not sure what is. One Twitter user hit the nail on the head, writing: "His face says 'This woman is crazy and ridiculous.' His heart says 'But god, do I love her.'" So this.
The epic final product was well worth the furniture rearranging, in my opinion. (But we'll let Steve be the judge of that.) "Make your own snow [angels] in Louisiana," Libby captioned the boomerang clip, along with the hashtags #merrychristmas#snowangel#falalalala#libbfit#retrosweatshirt#familyfun#joytotheworld. So far, her video has managed to attract more than 172,000 views. I mean, just look at that infectious smile! (Also, where can I get my hands on that super-soft rug?) "This is definitely going to become a viral meme. Merry Christmas!!" one person commented on Libby's Instagram video. See for yourself.
Seriously, doesn't Libby seem like one of the happiest people ever? Oh, and about those measly "29 followers" Libby supposedly had on Instagram? This fitness mama has now attracted more than 11,000 followers on Instagram alone — all thanks to an adorable idea, one patient husband, and their loving, hilarious son. What a cool Christmas gift.
As Scary Mommy reported, this probably isn't the first time Libby's husband went along with one of her crazy-awesome ideas. Take this holiday shot with the couple and their puppy rocking matching pajamas. (Aww!) Yet another example of true love in real life.
I'm no Instagram star, but my husband has done some pretty ridiculous/awesome things for me in the name of love. For example, I dragged him to a movie theater to watch the newest movie in the Twilight series while we were on our honeymoon. At a beach. And most recently, he spent two hours assembling a trampoline I bought for our three kids for Christmas. And I'm not talking about one of those small, exercise trampolines; this one is a decent-sized trampoline that takes up half of the room we're keeping it in. (You know, one that most people would probably keep outside. Yeah.) I also recently convinced him that we needed a third cat in our home — and he's the designated pooper-scooper in our house. Now that I'm typing all of this out, I feel like the worst wife ever. I love you, dear!
Check out Romper's new video series, Romper's Doula Diaries:
Watch full episodes of Romper's Doula Diaries on Facebook Watch.