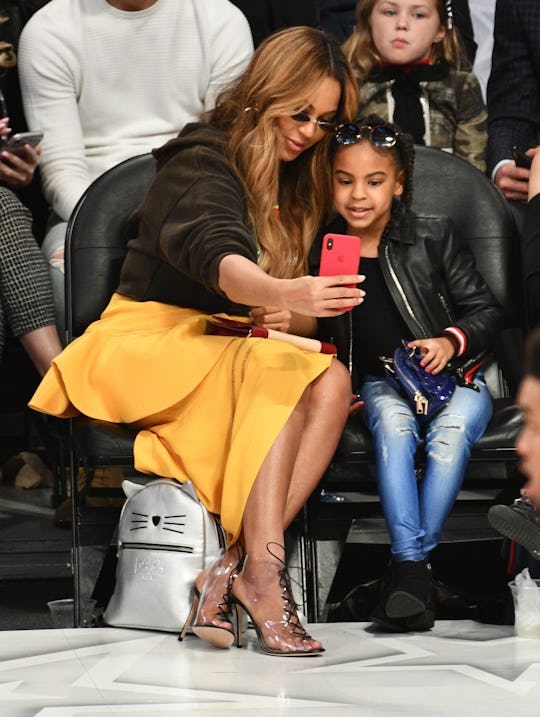 Allen Berezovsky/Getty Images Entertainment/Getty Images
Blue Ivy Carter Is Basically The Spitting Image Of Her Mom, Beyoncé
If Beyoncé is the queen of everything (and TBH, she is) then Blue Ivy is the princess. Though the first daughter of Knowles and husband JAY-Z has recently been joined by twin siblings, there's no denying that Blue is making a name for herself as a tiny icon (what else would you expect?). But the mother-daughter duo have more in common than just their almost unbelievable ability to command awe out of the general public, and these photos of Beyoncé as a kid vs. Blue Ivy now prove that the Knowles genes run strong.
In January of 2012, Beyoncé gave birth to her first daughter. She later told People that she's totally enamored by Blue Ivy. "I just stare at her all day," she said. "She is my favorite thing in the world, and my No. 1 job is to protect her." In the same interview, Bey opened up about what it's like to be a mother, and how despite the challenges of labor and delivery, she knows that Blue is a miracle in her life.
"I didn't feel that I looked beautiful during birth, but who does?" she told People. "I barely recognized myself. I tried my best to roller-set my hair, and I wore my gloss when I arrived at the hospital. I committed to the end and wore my kitten heels. It makes me laugh thinking about it. But after many hours of labor, I didn't care how I looked. It was all about the miracle that God gave me: the opportunity to deliver a human being."
Be that as it is, it's clear that both Bey and Blue are icons no matter what, and bear a striking resemblance to one another at a young age. Here, the 10 most amazing photos of them side by side.
1. Young Bey
Biography.com reported that Beyoncé actually started performing in local talent shows and recitals when she was her daughter's age.
2. Young Blue
This photo of Blue Ivy sitting between her parents is a testament to the fact that she is not only as much of a queen as her mom was at that age, but she is also absolutely in charge of that entire dynasty.
3. Beyoncé & Tina Knowles Alongside Blue Ivy & Bey
What's sweeter than seeing a mom alongside her daughter? That mom alongside her mom at the same time.
4. Bey Practicing Headshots
It's abundantly clear that Beyoncé had that special sparkle in front of the camera and audience from a very young age.
5. Blue Practicing Award Shows
Sitting in the front rows of award shows decades before her mother was, Blue Ivy makes an incredible fashion statement in this head-to-toe pink suit.
6. Bey Celebrating Her Birthday Then
Beyoncé celebrates her birthday on September 4, and TBH, we kind of hope that paper hat makes a comeback someday.
7. Blue Celebrating Beyoncé Now
Considering that every day is Bey day, it's super adorable to see Blue Ivy up on stage cheering for her mom's performances.
8. Bey As An Infant
These super sweet baby photos captured by mama Tina Knowles are what vintage throwback dreams are made of.
9. Blue As An Infant
After announcing her pregnancy with an auspicious "bump" reveal at the VMAs, Beyoncé returned to performing not long after she delivered Blue Ivy.
10. The Queens Side By Side Today
This is an Instagram photo of Beyoncé and Blue Ivy dressed in couture on their way to yet another glamorous event. There's no doubt about it: the fruit doesn't fall far from the (lemon) tree.