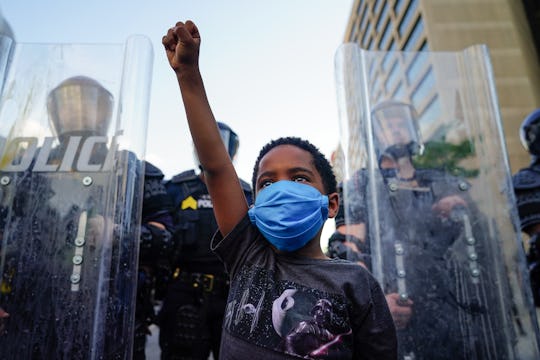 Elijah Nouvelage/Getty Images News/Getty Images
Photos Of Children At Black Lives Matter Protests Speak Volumes
With their little fists held high and protest signs on display, children attended the many Black Lives Matter protests held over the past week as frustrations, anger, and grief mounted following the police killing of George Floyd. While many of the demonstrators were adults, kids also showed up to help call for change and also witnessed a significant moment in history.
Floyd's death in police custody on May 25 was the tipping point that sparked impassioned protests in Minneapolis, New York City, Los Angeles, Chicago, and beyond. Protests continued in many cities on Monday as demonstrators rallied in a cry for justice for Floyd, Ahmaud Arbery, Breonna Taylor, and all other Black victims of police brutality and systemic racism.
"George Floyd's violent death was a breaking point — an all too familiar reminder that, for Black people, law enforcement doesn't protect or save our lives. They often threaten and take them," Black Lives Matter wrote in a petition over the weekend.
The most recent Black Lives Matter protests that cropped up in cities all across the United States and abroad marked an important moment in history — here's a look at how children are participating and making their voices heard.