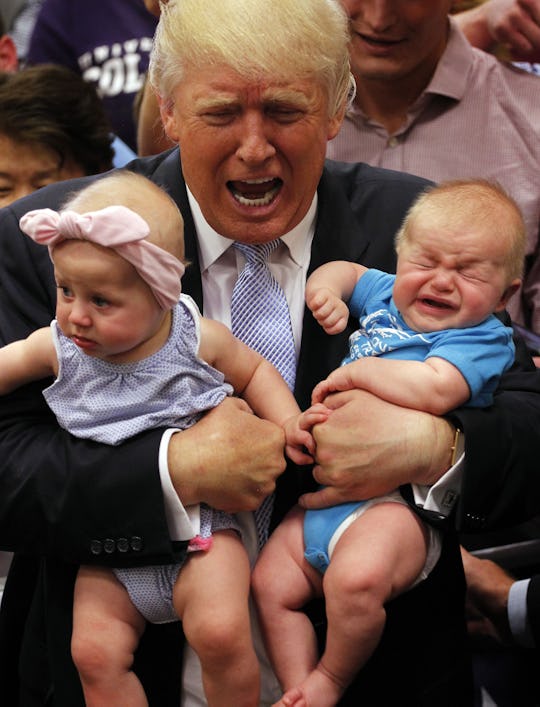 Joe Mahoney/Getty Images News/Getty Images
These Photos Of Donald Trump Holding A Baby Are Hilarious & Fitting
People poke fun at GOP nominee Donald Trump for a lot of reasons. Well, mostly just one reason: he's orange. But I'm here to introduce another. He's outright comical with children. I don't know if it's his generally awkward body language, his often NSFW language, or maybe a lack of experience, but Trump's handling of babies is seriously sitcom-worthy. According to CNN, Trump had a cute encounter with a toddler at a campaign rally on Monday — but by the looks of the pictures, the encounter was anything but cute.
You can't blame me for initially thinking this encounter might not have been that great, considering Trump's past interactions with children. In August, Trump asked a mother to leave his Virginia rally with her baby, who had been crying. First, he said he didn't mind the crying, according to Politico:
Don't worry about that baby. I love babies. Don't worry about it. I love babies. I hear that baby crying, I like it. What a baby. What a beautiful baby. Don't worry, don't worry. The mom's running around like—don't worry about it, you know. It's young and beautiful and healthy and that's what we want.
And then, just a couple of minutes later, Trump changed his mind:
Actually, I was only kidding, you can get the baby out of here. That's all right. Don't worry. I think she really believed me that I love having a baby crying while I'm speaking. That's OK. People don't understand. That's OK.
Trump was better with the child at the Monday rally, but photos don't quite show it. At least they're hilarious.
This grimace just screams: "Do I really have to..."
What is even going on here? It kind of looks like Trump has never held a child before. Which might be true, considering what ex-wife Ivana and he himself have said about his involvement in raising his children. In February, Ivana told the Daily Front Row that she "really raised" her three children, Donald Jr., Ivanka, and Eric. She decided on their schooling, cooked for them, and disciplined them.
In 2005, when Trump's wife Melania was pregnant with their first child together, Barron, Trump did an interview with Howard Stern, in which he admitted to a very passive childrearing approach. According to BuzzFeed, Trump told Stern that he refused to change his baby's diapers and, in general, did not take a hands-on approach to parenting. He reiterated those statements in a 2007 interview as well:
I mean, I won't do anything to take care of them. I'll supply funds and she'll take care of the kids. It's not like I'm gonna be walking the kids down Central Park... Melania is a wonderful mother. She takes care of the baby and I pay all of the costs.
These sentiments are reflected in the childcare plan his campaign has put forth. Trump's proposed policy would guarantee six weeks of paid leave to birth and adoptive mothers, according to Fortune. That's better than what the United States currently offers, but it ignores a big portion of the population: men. It reinforces that women should bear the sole burden of childcare, much like they did in Trump's own family. (And forget about families in which both of the parents are men.)
Maybe Trump just forgot to include men in the plan? Maybe he doesn't think men should be taking care of babies? Not sure, but these pictures certainly confirm that maybe some men need more practice when it comes to holding children (especially when they still have young kids to interact with like Barron).