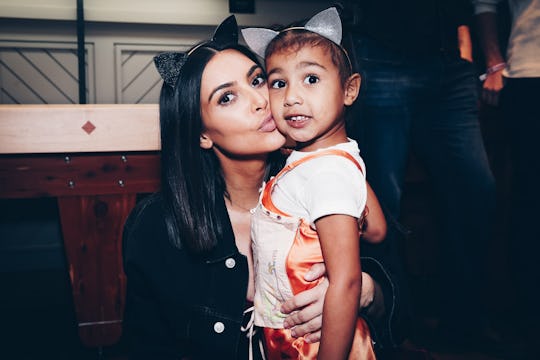 Handout/Getty Images Entertainment/Getty Images
These Photos Of North West Then & Now Will Take You On A Sweet Trip Down Memory Lane
When Kim Kardashian welcomed her first daughter, North West, with her husband, Kanye West, in 2013, her whole life was changed. The social media and reality TV star became a mom for the first time and her Instagram presence took a very adorable turn. Little North has been joined by her siblings, Saint and Chicago, over the last few years, so recent photos of her showcase her role as an experienced big sis. But looking at these photos of North West then and now will take you on a sweet trip down memory lane.
Since the time North was born, on June 15, 2003, she's always had eyes on her. Maybe it's because of her unique name or the fact that she comes from one of the most famous celebrity families and couples in the world. Her grandmother, Kris Jenner revealed that North was named for a very special reason, according to People. "The way [Kim] explained it to me was that North means highest power and she says that North is their highest point together," Jenner said in 2013.
And during a 2014 interview with GQ, according to HuffPost, Kardashian revealed that the name North had been a joke between her and West, until other major celebrities like Pharrell Williams and Vogue editor Anna Wintour called the name "genius."
Photos of North West from all the way in 2013 to now, almost four years later, show that she is definitely one of the brightest parts of her parent's lives and might very well be on her way to becoming a *star* — just like her parents.
2013
Kardashian and West kept their baby girl to themselves for two months before they shared the first photo of her, ever, on Kris Jenner's talkshow, Kris Jenner Show in August 2013. Kardashian and West were going to release the pictures on social media, according to TMZ, before deciding to support the momager instead.
After giving birth to her first child, Kardashian could not stop raving about how much she loved being a mother. "It's the most rewarding feeling!," Kardashian told parenting blog, Romy and the Bunnies, according to Us Weekly. "I really love every phase! Just the way my daughter laughs with me, all of the small things you appreciate."
2014
A few months later, in January 2014, Kardashian appeared on The Ellen DeGeneres Show with even more baby photos of North West, and talked more about her then 7-month-old. "She's so calm and really quiet," Kardashian told the show's host, Ellen DeGeneres. Kardashian also revealed her desire to have more babies (which would eventually come true). The photos (above) that Kardashian shared with DeGeneres were so adorable.
Indeed, 2014 would be a huge year for North. In March, North appeared in her first Vogue photo shoot, and a few months later, in May, North would travel to Italy to be in her parent's wedding. "Having North be a part of our day was so special," Kardashian said a few years later, according to E! News.
Finally, in June, North celebrated her first birthday party with the theme "Kidchella" complete with a ferris wheel and flower crowns to make the newly 1-year-old feel as if she was at the three day music festival, Coachella, too.
In a 2014 interview with Vogue, Kardashian revealed that she could not get enough of her daughter, especially when it comes to Instagram. "I take pictures of her all the time and dress her up," Kardashian said. And Kardashian did just that when North celebrated her first Halloween, dressed up as the most adorable skunk you will ever see.
2015
In 2015, North's life would forever change when Kardashian announced that she was expecting her second child with West and North was going to become a big sister. Kardashian made the big announcement during an episode of Keeping Up With The Kardashians in May that year, according to E! News, and gave birth to their first son, Saint West, in December.
But as North got older, she enjoyed spending time with her older cousins, as documented on Kardashian's Instagram.
2016
In 2016, North really got to see what being a big sister was all about, and she reportedly loved it — at least, for a few months. In January of that year, Kardashian's younger sister, Khloé Kardashian revealed that North was super into being a big sister, according to Us Weekly. "North is obsessed with him," Khloé said. "North will say 'My name is Saint!' She wants her name to be Saint now."
In addition to learning her role as a big sister, North was already quickly learning that she would have to serve the purpose of "fashion inspiration" to 3-year-olds everywhere. Seriously, take a moment to appreciate North West carving her place as a trendsetter this year:
But 2016 also brought tragedy to Kardashian after she had been robbed during Paris Fashion Week in October. She took a two-month break from social media (and posting photos of North) to spend time with her family and heal after the incident.
2017
The following year marked Kardashian's return to social media, which meant North's return to her Instagram account, too. Kardashian highlighted how important family was to her during her period of healing by immediately posting photos of her family (including North) to her Instagram account. These intimate family photos could not be any sweeter and showed just how much the kids grew in a matter of months.
In 2017, the 4-year-old gave her first magazine interview, ever, revealing that her favorite food is cheese and her family nickname is Bubs, according to ELLE. It was clear that it was this was the year North was really coming into her own personality, especially when Kardashian talked about her daughter. During an appearance on The Ellen DeGeneres Show, Kardashian revealed that North wasn't the biggest fan of her younger brother. She said, according to People:
North just beats him up all day long...she's just awful. She's so jealous and I thought it was a phase — it's not going away. She just says that boys aren't allowed in her room.
In 2017, North also became a fashion designer. Kardashian and West debuted The Kid's Supply — a clothing line inspired (and contributed) by North and Saint. "North [loves] trips to fabric stores," Kardashian told Vogue that September. "She definitely has an opinion on colors and styles."
2018
Although it is already two months into the year, North's 2018 has gotten off to a huge start — in early January, she became a big sister for the second time when her baby sister, Chicago West, was born on Jan. 15.
In the weeks since then, it has been revealed that North is a huge fan of hot dog sushi and is her mom's favorite Instagram photographer.
With it being so early in the year, there are no doubts that fans will see more of North on her mom's social media account for the weeks (and let's be real, years) to come.
Check out Romper's new video series, Bearing The Motherload, where disagreeing parents from different sides of an issue sit down with a mediator and talk about how to support (and not judge) each other's parenting perspectives. New episodes air Mondays on Facebook.