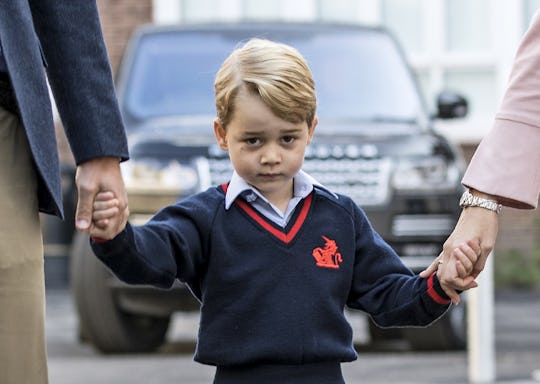 RICHARD POHLE/AFP/Getty Images
These Photos Of Prince George's School Will Make You Want To Enroll Despite The Price Tag
In case you've been living under a rock, you're probably aware that Prince George recently started school. But this isn't your ordinary learning institution — it's a space fit for prince, of course. And photos of Prince George's school will make you want to enroll there.
The prince's new school, Thomas's Battersea, is described as "a big, busy, slightly chaotic school for cosmopolitan parents who want their children to have the best English education money can buy," according to the UK Good Schools Guide. Because it only houses 560 students — ranging in ages from 4 to 13 — it's not exactly easy to get into the institution.
So if you can manage to cough up $24,000 per year to send your child to Thomas's Battersea, great. But you need to be making plans for enrollment well before the kid is even born in order to have a chance to make it into this highly-competitive Christian school ("Register as soon as possible, preferably at birth," the UK Good Schools Guide advises.) And even if you can afford it and make the initial cut, the school still wants to meet your 4-year-old to see if they've got what it takes. Ideal students should "have a measure of confidence, are responsive, sociable, with a light in their eyes."
It all seems a little intimidating doesn't it? No wonder Prince George looked a little nervous on hist first day. Still, photos of Prince William leading his son by the hand as they embarked on his inaugural day at school on Sept. 7 pretty much stole the day. Unfortunately, Duchess Kate was feeling ill and unable to accompany her eldest child on his big day; she is currently battling a particularly awful case of hyperemesis gravidarum during her third pregnancy.
The quality of education seems well worth the money. Along with academics, students will have a well-rounded learning experience with modern foreign languages, ballet, drama, music and art. The school also offers an outdoor learning program, for which students go on trips and listen to special speakers. A few of the club offerings at Prince George's fancy new school are: Pottery, fencing, LEGO, karate, running and music technology.
And let's not forget to mention the incredible lunches these kids are getting every day. Forget rectangular pieces of pizza, chicken tenders, and mac and cheese; the cafeteria at Thomas's Battersea serves up pint-size gourmet dishes. For example, according to the school's website, here is what Prince George could be eating at school throughout the day, according to the school's website:
Mid-morning snack: Organic milk or water, and fresh baked fruit bread
Soup and bread course: Soup of the day, freshly baked organic brown, and a white baguette slice
Fish option: MSC pangasius, leek and spring onion risotto
Vegetarian option: Freshly prepared pesto pasta with tomatoes and chick peas
Main course: Freshly prepared pork stroganoff with red pepper strips
Vegetable: Fruity mixed salad
Carbohydrate: Steamed fibre rich whole wheat twisty pasta
Dessert: Individual apricot tartlets served with a danone actimel.
Did I mention the school is simply gorgeous? Yeah, there's that.
With the exception of an odd incident last week — when a 40-year-old woman was arrested for breaking into Thomas's Battersea — things seem to be going well at the 4-year-old's new school.
"Our aim for him, as well as for all of our pupils is to provide a safe and secure and happy environment where he feels supported by a kind and loving community," former headmaster of Thomas's Battersea Ben Thomas told People.
Considering the yearly price tag of his school is more than what I paid annually for college tuition, let's hope the school delivers on its promise.
Watch Romper's new video series, Romper's DoulaDiaries:
Check out the entire Romper's Doula Diaries series and other videos on Facebook and the Bustle app across Apple TV, Roku, and Amazon Fire TV.