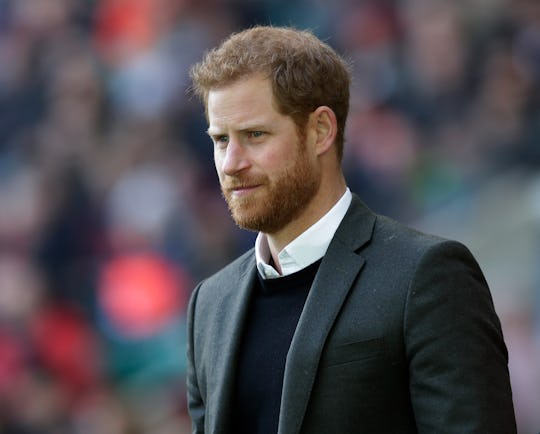 Henry Browne/Getty Images Sport/Getty Images
These Photos Of Prince Harry Then & Now Show How Much He's Changed Over The Years
When I think of Prince Harry, the word chameleon pops up in my mind. Why, you ask? Well, when you compare Prince Harry to the rest of his famous family members, it seems like he has gone through the most metamorphoses in his life. From growing up as a spunky little kid to taking on a serious career in the British army, there are many sides to Prince Harry. And these photos of Prince Harry then and now proves that he's a bit of a shapeshifter.
In November 2017, Prince Harry announced his engagement to Meghan Markle, to great fanfare. And following the exciting news, Prince Harry gushed about how ready he is to become a husband. "We're a fantastic team. We know we are. And, we hope to over time try and have as much impact for all the things that we care about as much as possible," Prince Harry said of his future life with Markle, according to ABC News.
But what was Prince Harry like before he was in wedding planning mode? As it turns out, there are many sides to Prince Harry that fans probably don't know about. That being said, check out these photos of Prince Harry then and now below.
He Was A Really Cute Kid
Whether you're a fan of Prince Harry or not, it's hard to deny how adorable he was as a young lad. The good news is there are plenty of pictures floating around the internet that proves Prince Harry's cuteness.
But what's especially notable about Prince Harry's childhood photos is that he always seems to be matching his older bother, Prince William. Apparently, Prince Harry's late mother, Princess Diana, was responsible for the excessive matching. "I genuinely think she [Princess Diana] got satisfaction out of dressing myself and William up in the most bizarre outfits – normally matching, Prince Harry said about his mom's sweet habit, according to Hello Magazine. "It was weird shorts and little shiny shoes with the old clip on. Looking back at the photos it just makes me laugh and I think, 'How could you do that to us?'"
He's The Jokester Of The Family
If you Google "Prince Harry" smiling, you'll find a ton of photos of him making silly faces. In fact, when Prince Harry was a teenager, it was hard not to catch him in a joking mood. Of course, Prince Harry's lighthearted nature did land him in hot water from time to time — especially when he was a young kid.
"The boys are well and enjoying boarding school a lot, although Harry is constantly in trouble," Princess Diana wrote in a letter from 1993, according to The Telegraph.
He Has A Serious Side
Of course, being Prince Harry is not all fun and games. In fact, Prince Harry served in the British Army for ten years, according to the Royal Family's website. And telling by the photos taken of Prince Harry during this time, he took his role very seriously.
He's A Kid At Heart
Some of the best photos of Prince Harry are of him interacting with young kids. There's nothing more touching than seeing how Prince Harry's eyes light up when he pays a visit to a young child in need. In fact, its downright heartwarming.
And while I don't condone pressuring strangers to have children, I really hope Prince Harry and Markle have kids sooner than later. I think it's a safe bet Prince Harry will be an awesome dad.
He's Ready To Be a Husband
In case you missed the news because you were visiting another planet, Prince Harry got engaged to Markle in November 2017. And all the way from the couple's engagement photos to snaps of them attending charity events today, it's clear Prince Harry is ready to say "I do." In fact, Prince Harry has said as much. "The fact that I fell in love with Meghan so incredibly quickly is confirmation to me that all the stars are aligned," Prince Harry said about his romance, according to POPSUGAR.
Yep, there's no doubting Prince Harry wants to marry Markle ASAP.