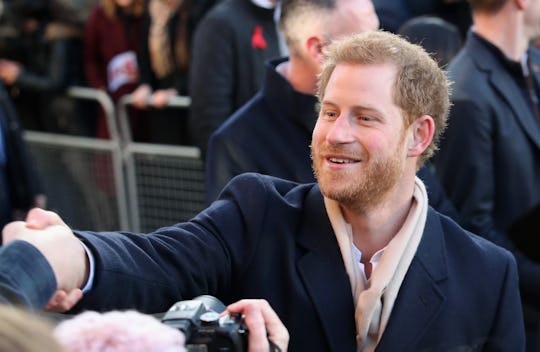 Chris Jackson/Getty Images Entertainment/Getty Images
These Photos of Prince Harry Through The Years Show The Powerful Bond He Had With His Mom
Although his older brother Prince William has stolen the spotlight for many years — courtesy of his high-profile engagement and marriage to Kate Middleton and three royal pregnancies so far — it's clearly Prince Harry's turn to shine. Sure, the media pegged him as the younger, "party dude" prince for a while there. But his reputation started turning around for in recent years, and especially when things got serious with his girlfriend, Meghan Markle. Now that the younger prince of Wales is in full-blown wedding planning mode, fans are probably feeling nostalgic about the road that led him to where he is today. And these photos of Prince Harry through the years show just how far he's come.
Let's start way back at the beginning, shall we? Prince Harry was born in London, England on Sept. 15, 1984 — the second son of Charles, Prince of Wales, and Princess Diana, according to Biography.com. Princess Diana described young Harry as "very artistic and sporty," and at an early age, he developed an interest in riding and hunting, according to the website. Although they were royalty (and obviously very privileged), Princess Diana tried to give her sons "as normal a life as possible." The royal mom made it a point to take Harry and William to places like amusement parks, fast-food restaurants — just like other children their age, according to Biography.com. Take a walk down memory lane with me and appreciate how freaking adorable Harry was as a little boy.
It was on Aug. 31, 1997 that Prince Harry and Prince William lost her mother, Princess Diana, in a tragic car accident. As USA Today reported, Diana, 36, died at a hospital shortly after leaving a Paris hotel by car — which was driven by an intoxicated body guard who was attempting to avoid paparazzi who were reportedly following them. The driver ultimately crashed into a concrete pillar. Harry was only 12 when he walked behind his mother's coffin at her funeral, reported E! Online.
In 2005, Prince Harry caused quite the scandal when he was photographed wearing a Nazi costume at a party. He was even forced to released a statement after the photo was published by The Sun. "I am very sorry if I caused any offense or embarrassment to anyone," Harry said, according to CNN. "It was a poor choice of costume and I apologize." And in 2012, Prince Harry unknowingly put the "crown jewels" on display when he was photographed playing strip billiards in Las Vegas, TMZ reported.
In May 2005, Prince Harry enrolled at the Royal Military Academy Sandhurst, according to Biography.com. After 44 weeks of training, he joined the Household Cavalry as a second lieutenant in April 2006. (And I have to say, the military uniform suited him well.)
In 2017, Harry opened up about how the death of Princess Diana has affected him through the years, the Telegraph reported. The prince also revealed that he ultimately sought counseling for his grief. "I can safely say that losing my mum at the age of 12, and therefore shutting down all of my emotions for the last 20 years, has had a quite serious effect on not only my personal life but my work as well," Prince Harry said, according to the publication. He continued:
My way of dealing with it was sticking my head in the sand, refusing to ever think about my mum, because why would that help? It's only going to make you sad, it's not going to bring her back.' So from an emotional side, I was like, "Right, don't ever let your emotions be part of anything."
These days, most photos of Prince Harry, 33, are shots of him and his fiancee, Meghan Markle. The pair got engaged in November 2017 and are planning an May 19, 2018 wedding, according to Business Insider.
From a spunky (and adorable) kid, to a wild child teen, a party-happy young adult, a man in uniform, to a taken man, the world literally has watched Prince Harry grow up through the years. Maybe that's why it's so hard to believe he'll be a married man in just a few months!
Check out Romper's new video series, Romper's Doula Diaries:
Watch full episodes of Romper's Doula Diaries on Facebook Watch.