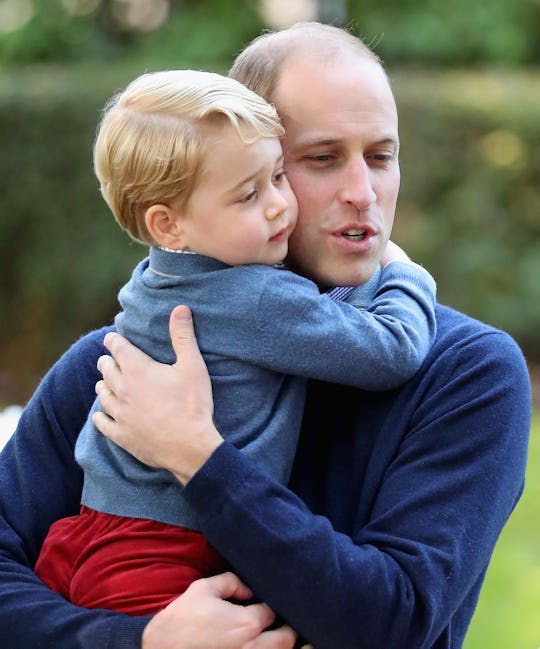 Chris Jackson/Getty Images Entertainment/Getty Images
These Photos Of Prince William As A Kid Vs. Prince George Will Make You Do Double-Takes
Ever since getting pregnant, I have had a reoccurring dream that my baby will come out as a carbon copy of my husband with no trace of my genes to be found. Babies often resemble one parent more than another, sometimes even looking identical. These photos of Prince William as a kid vs. Prince George show how adorable that kind of family resemblance can be. Down to the very outfits that their parents dressed them in, Prince George is the spitting image of his dad, and I can't get enough of their photos.
Prince George was born on July 22, 2013, officially ushering Prince William into fatherhood. Father and son have been photographed together numerous times since and the family resemblance is uncanny. But there is more than just a passing resemblance when you look back on photos of Prince William as a child and compare them to photos of his eldest child — which, by the way, I can't stop doing. George has been photographed in many of his biggest moments and photos from roughly 30 years earlier show his dad in the same poses, looking like little twins. So, without further ado, let's check out some of the royal family's biggest lookalike moments.
In Their Fathers' Arms
These two photos of William and George, both dressed in baby blue, being held by their dads in uniform will have you doing double-takes. This one comes with a bonus then-and-now comparison of Prince Charles in profile.
On The First Day Of School
Take a look at this shot of Prince William's first day of school in 1987 as Princess Diana led him by the hand to Wetherby Preparatory School in Notting Hill, London. Now, check out Prince George on his way to school for his own first day at Thomas Battersea School. Little George was dressed in his "summer uniform," according to TODAY, which includes a blue button-down shirt beneath a navy v-neck sweater and matching shorts. William's first day called for slightly warmer clothes, but there's not much else that differs between the two photos.
And Again
These up close photos of the two on their way to school show that their hair was even about the same length — although George has a bit more of a part going on in his hair.
When They Became Older Brothers
Both Prince George and his father were photographed holding their new baby siblings and they look alike there too. There's an arguable resemblance between Prince Harry as a baby and Princess Charlotte, too. There's no doubting that this bunch is related.
At Their Siblings' Christenings
My personal favorite side-by-side photos of the father and son pair features the outfits that they wore to their siblings' christenings. Royal christenings are a long held practice in the monarchy, according to Pop Sugar, as baptism is an important sacrament in the Church of England. But these occasions also often double as royal babies' first public appearances, and the family is always dressed to the nines. Prince George is dressed so similarly to William that I thought they were in the same exact outfit. How cute are they?
Babies often look like their fathers, but Prince William and Prince George take lookalike to a whole new level. The two of them have a lot of features in common and have been photographed in many of the same occasions. Given the tendency towards tradition in the royal family, it's not all that surprising that they would be posed similarly. But these photos are seriously cute and I for one can't wait to see what the coming royal baby looks like. Maybe it's time for Duchess Kate to get a twin of her own.
Check out Romper's new video series, Bearing The Motherload, where disagreeing parents from different sides of an issue sit down with a mediator and talk about how to support (and not judge) each other's parenting perspectives. New episodes air Mondays on Facebook.