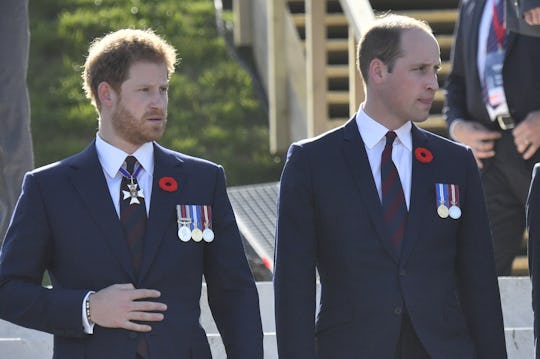 Pool/Getty Images News/Getty Images
These Photos Of Prince William & Prince Harry As Kids Will Make You So Nostalgic
Weddings can make people sentimental, and as the nuptials of Prince Harry and Meghan Markle are just around the corner (the two are tying the knot on May 18 at St. George's Chapel at Windsor Castle) fans of the royal family might want to take a walk down memory lane before Meghan takes her walk down the aisle. As some of the most photographed people in the world, there's plenty to see, and these photos of Prince William and Prince Harry as kids will make you SO nostalgic for yesteryear.
As stans already know, Prince William will not be serving as Prince Harry's best man, because in royal weddings, there's no such thing. Marlene Koenig, a British and European royalty expert, told Town and Country that the "best man or best men are officially called supporters," despite the fact that Prince William broke protocol back in 2011 when he named his brother his best man anyway.
Semantics aside, what's clear is that the brothers are always there to support each other, and have been throughout their whole lives. The photos below are a testament to everything they've been through – from losing their mother to running around the palace as young royals. It's all super sweet, and is made even more meaningful as the family approaches such a big milestone in Harry's life.
This photo of Princess Diana holding both of her young sons while sitting on an outdoor stairway in Spain back in 1987 is great candid moment. Their father, Prince Charles, sits right behind them, smiling down at his family.
Walking alongside their mother again (with whom they are often seen) Prince William and Prince Harry have entered their young teens in this photo, dressed in suits and ties, and looking as regal as ever.
Diana, William and Harry perch over the side of a waterslide ride at an amusement park, laughing and soaking wet. It's clear from photos like these that Diana loved to have fun with her kids, and ensured that they did "normal" things as much as possible.
Princess Diana reaches her arms out to hug both of her sons in this 1991 photo. You can see that Prince William and Prince Harry are both in motion in the photo, preparing to run to her.
William, Harry and Diana ride in a chariot in Austria back in 1993. Dressed casually in windbreakers and chambray button ups, they appear to be sitting on some sort of fur and laughing together.
Prince Charles smiles for the camera with each of his arms around his sons, while William and Harry both laugh.
Dressed up as "policemen" as young kids, William and Harry prove that even royal kids like to play pretend.
In this photo, Princess Diana holds Prince William on her hip while pregnant with Prince Harry.
William and Harry perch on a picnic bench together. William is seen sitting on the tabletop, while Harry sits just beneath him on the bench. Maybe not official royal dining protocol, but very cute for sure.
In this sentimental side-by-side shot, you can see Princess Diana and Prince Charles walking out of St. Mary's Hospital showing Prince William to the world for the first time. (That is where Prince Harry and the rest of the royal children were all born, too.) Next to it is a photo of Prince William and Kate Middleton in 2013, walking out with George for the first time.
In another side-by-side photo, you see Prince William holding Prince Harry as a baby, and next to it, his son Prince George holding his sister, Princess Charlotte. Talk about a full circle moment.