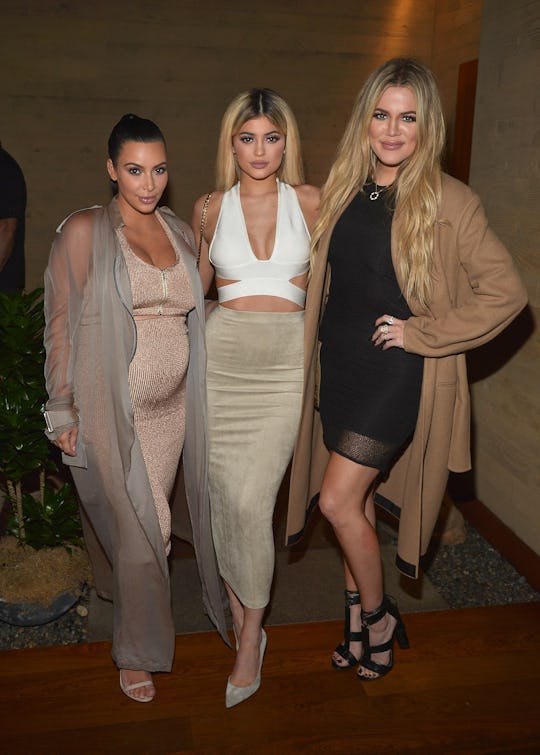 Charley Gallay/Getty Images Entertainment/Getty Images
These Photos Of Stormi, Chicago, & True Prove The Next KarJenner Generation Is Too Cute
The new generation of Kardashians are upon us, and with the ongoing birth announcements between all of the KarJenner women, the family dynasty is only expanding. Given that their lives and careers are built around being accessible as they can to fans, it's no surprise that the moms have shared an abundance of photos of their little ones. So much so, in fact, that these photos of Stormi, Chicago and True prove the next generation of Kardashians are going to be even more obsessed over than the last.
On July 5, Entertainment Tonight reported that Kim Kardashian West revealed that she, Kylie Jenner and Khloé Kardashian were planning a photo shoot for their daughters. "The three little girls are gonna grow up together," Kardashian West told Entertainment Tonight. "Chi and Stormi are just two weeks apart and then True is just a few months behind so that's really exciting." She continued: "Me and Kylie [Jenner] and Khloe are planning one of those kids' photo shoots, just like a silly shot that we can have all the girls, 'cause Stormi and Chicago have so many pictures together. So, we can't wait for True to join the crew."
Though photos from that shoot have yet to be released, we can all bide our time by gushing over the other photos we do have already.
1. When Khloé & True Posted Their First Selfie Together
Khloé welcomed her first daughter, True Thompson, on April 12, TODAY reported. After she gave birth, Khloé tweeted: "I am now so excited my daughter will have forever best friends with Chicago and Stormi!! God is great!!! Thank you Lord for our princess."
2. When Kylie Introduced Stormi To The World
True to KarJenner tradition, Kylie didn't start sharing photos of Stormi until she was about 1 month old. On March 1, she posted one of the few photos of herself and her infant daughter to be seen on her Instagram feed.
3. When Chicago & True Hung Out Together
Offering a preview of what it's going to be like when all three of the girls get together for photos, Kim posted a photo of herself, Khloé and their daughters, in honor of her sister's birthday. She wrote:
Happy Birthday to one of my favorite souls on this planet! @khloekardashian. This year you have shown strength like none other. I admire you for always following your heart. I love seeing you as a mom and can't wait for the years ahead. Let's celebrate you today! I love you to infinity!
4. When Chicago Got Her First Closeup
On May 29, Kim posted the very first photo of Chicago to Instagram, saying: "My baby Chi." On June 22, The Sun reported that she and husband Kanye West first announced the arrival of their daughter, whom they had via gestational carrier.
5. When Stormi Celebrated Her Cousin's Birthdays
Kylie posted a photo of herself holding Stormi in a Gucci baby carrier (what else) on her way to North and Penelope's joint birthday party. In the caption, she wished her nieces an amazing day.
6. When Chicago Mean Mugged For The Camera
Truly following in the footsteps of her dad, Kim posted a photo of Chi puckering her lips for the camera, and it was truly a lot of attitude for such a tiny baby. In this photo, Kim also referenced her daughter as "Chi Noel," which sparked rumors that she had in fact given her daughter her middle name, though it wasn't on her birth certificate, Harper's Bazaar reported. Interestingly, Noel is also Kim's middle name.
7. When Stormi Cuddled With Her Mom
On April 19, Kylie posted a photo of herself with Stormi on her lap, holding her daughter's hand. "Angel baby," she wrote in the caption.
8. When Khloé Wished True A Happy One Month
In one of the very first glimpses Khloé posted of True, she took a short video of her daughter looking very sweetly at the camera, wishing her a happy one month of life.
9. When True Showed Off Her Pink Outfit
Almost 4 months old, Khloé posted a photo of True wearing a pink outfit and matching pink headband... all of which coordinated with her very pink nursery.
10. When Chicago Cuddled With Her Siblings
On June 9, Kim posted a photo with herself, Chicago, Saint and North all laying next to each other in bed. "Welcome to the good life," she wrote alongside the photo. (Ain't that the truth.)
On July 1, Khloé tweeted that the girls had a "cousin shoot," though she didn't say when or where the photos would be available. All we can know is that it did happen, and we might see them eventually... if we're lucky.