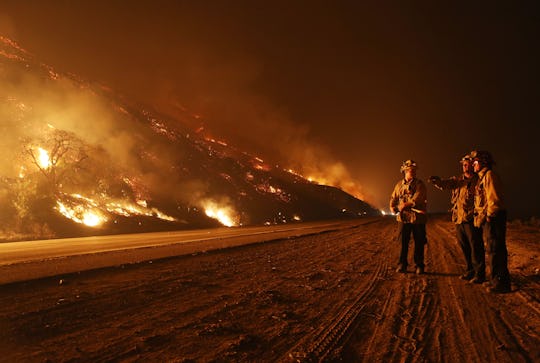 Mario Tama/Getty Images News/Getty Images
These Photos Of The California Wildfires Are Totally Apocalyptic
Wildfires are engulfing Los Angeles and Ventura counties in Southern California. Gov. Jerry Brown has declared states of emergency in both counties as the Thomas Fire in Ventura County, Creek Fire in Sylmar, Rye Fire in Santa Clarita, and Skirball Fire in Bel Air intensify. Meanwhile, locals are taking to social media to share apocalyptic photos of the California wildfires that have displaced hundreds of thousands from their homes thus far.
Los Angeles County officials and Cal Fire have shared the latest numbers, as of Thursday morning:
Thomas Fire: 96,000 acres, 5 percent containment
Creek Fire: 12,605 acres, 5 percent containment, 30 to 50 structures damaged/destroyed, 2,500 homes threatened
Rye Fire: 7,000 acres, 10 percent containment
Skirball Fire in Bel Air: 475 acres, 5 percent containment
Facebook has set up a Crisis Response Page that connects victims with nearby people who can offer housing, clothing, or other resources. Meanwhile, The Humane Society of Ventura County has been evacuating horses and other animals throughout the Ojai Valley — the society is near capacity for receiving animals at the shelter, but volunteers advise people to call 805-646-6505 for assistance with any of their animals.
If you're not in the area but want to make donations, the United Way of Ventura, the American Red Cross of Ventura County, and the Ventura County Sheriff's Office of Emergency Services have created the Thomas Fire Fund. To donate, you just need to text UWVC to 41444 to make a cash donation, call 805-485-6288, or visit the United Way of Ventura County's website. The Salvation Army is also accepting food and water at the Ventura County Fairgrounds, and you can donate either of those or money by calling 1-800-SAL-ARMY or visiting the website.
You might also want to consider donating to Noah's Legacy Fund, which provides supplies, training, and equipment to first responders who are in charge of rescuing animals from natural disasters like this one. The foundation has also purchased four "Animal Safe" trailers that provide temporary sheltering for pets whose owners have evacuated due to natural or manmade disasters. These trailers are self-sustaining with heat, air conditioning, power, water, and lighting so displaced animals are met with care. The department stations and staffs these trailers next to Red Cross emergency sheltering sites, so pet owners are never too far from their pets.
As for volunteering opportunities, keep an eye on The Red Cross of Los Angeles, which will be updating its social media accounts. As of Thursday, The Red Cross is accepting new volunteers who are interested in supporting wildfire relief efforts. Submit an application here and Red Cross representatives will contact you regarding orientation and volunteer opportunities.
And, of course, a wealth of GoFundMe accounts supporting families across Southern California who've lost their homes are popping up. Because the Ventura County district attorney warned the public about "gougers" taking advantage of fire victims by creating fake charities online, according to KEYT-TV, here is a list of all the verified campaigns. If you want to help out but can't pick just one campaign, you can choose to donate to the Direct Impact Fund, through which you'll be supporting a number of campaigns connected to Southern California Wildfire Relief.
The following photos and videos show just how much Southern California could use your help.
California is facing it's worst year for firestorms yet—from Jan. 1 to Dec. 3, there were 6,762 fires that destroyed 505,391 acres, according to the Los Angeles Daily News. That's 43 percent more for the same time period last year when 244,297 acres were destroyed, Cal Fire reports. As Santa Ana winds intensify the conditions, residents need our support.
Editor's note: After publication, we discovered this article did not meet our editorial standards. There were portions that did not correctly attribute another source. It has been updated to meet our standards.
Check out Romper's new video series, Romper's Doula Diaries:
Watch full episodes of Romper's Doula Diaries on Facebook Watch.