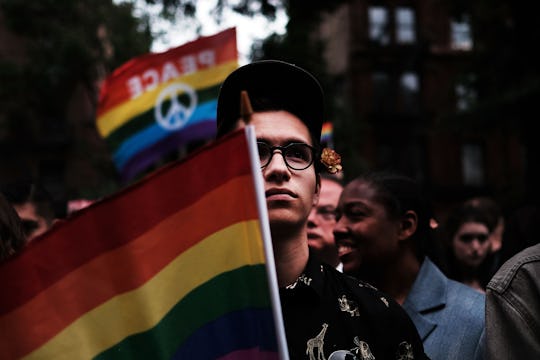 Spencer Platt/Getty Images News/Getty Images
Powerful Photos & Videos Of The Stonewall Protests
President Donald's Trump first weeks in office have certainly been historic. Not only because his administration is behind a flurry of controversial executive orders, but because many of these new policies, like Trump's now-blocked travel ban, have sparked some of the nation's most impassioned and largest protests in modern history. And there's no indication that they'll lose momentum anytime soon. On Saturday afternoon, hundreds of LGBTQ supporters took to the streets in front of New York City's historic Stonewall Inn to protest Trump's executive orders, which the rally's organizers described as "illegal, immoral, unconstitutional and un-American," echoing words spoken or written by many political leaders in recent days.
"Join us in front of the Stonewall Inn as we stand in solidarity with every immigrant, asylum seeker, refugee and every person impacted by Donald Trump's illegal, immoral, unconstitutional and un-American executive orders," according to the event's Facebook page. "We will also speak out against Trump's selection of the most anti-LGBT nominees and appointees in modern history."
The LGBT Solidarity Rally in the West Village had expected a pretty big turnout — 11,000 marked as "going" on Saturday afternoon — and a growing collection of photos and videos from the event show masses of protesters braving the cold in Manhattan's West Village neighborhood, the home of the Stonewall Inn where hundreds fought for LBGTQ rights in June 1969 when homosexuality was illegal.
Considering this legacy, the Stonewall Inn — now a national monument that recognizes the struggle for LGBT rights — was the perfect place to convey the message that many Americans refuse to erase decades of progress. And these videos and photos posted on social media prove that this message of resistance was delivered. Here's what people there had to say:
The rally was "ON FIRE" before it even started.
A "sea of people" turned out.
The street outside the iconic gay bar was filled in "just a few minutes."
This is "what democracy looks like."
"We're here. We're queer..."
"I am a woman. I am brown. I am queer. I am an immigrant. And I am here to stay."
Sen. Chuck Schumer led the crowd in a chant of "Dump Trump."
These parents taught their daughter "how to resist."
And finally, "love is love... Well, usually."
The protest was sponsored by dozens of advocacy groups and local politicians, including New York Governor Andrew M. Cuomo. "Let us be clear: we will do everything in our power to protect New Yorkers from discrimination," Cuomo wrote on Twitter.
Saturday's rally at the iconic Stonewall Inn joins several other protests to "Resist Trump" across the country over the weekend, making it the third weekend in a row that people from around the world have stood up against the new administration's policies and agendas.