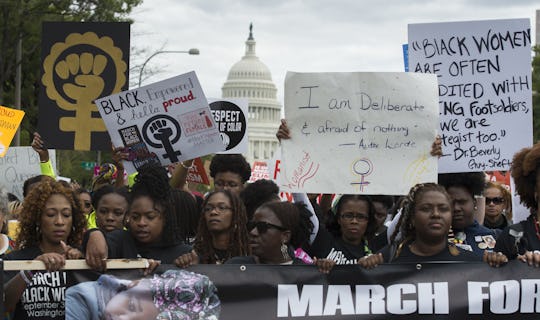 ANDREW CABALLERO-REYNOLDS/AFP/Getty Images
March For Black Women: This Is What The Inspiring Protest Looked Like In D.C.
On Saturday, women descended on Washington D.C. for the March for Black Women. The march was scheduled on the same day as the March for Racial Justice in order to highlight the issues black women face as well as empower them. Organizers wrote on their website, "We have always put it simply: Black women's issues are racial justice issues. Black lived-experiences related to gender, sexuality, gender identity are-racial-justice-issues." And these signs from the March for Black Women all had messages on them that spoke to those issues.
Farah Tanis, one of the organizers, said that it was essential to highlight black women specifically, hence the timing of the march. She told The Washington Post, "That didn't happen in the civil rights movement, or in the women's rights movement. It shows we are going in the right direction." Organizers directed the crowd, "Let the black women lead. If you are not a black woman, you should not be at the front."
The marches were organized back in June after Jeronimo Yanez, the cop who reportedly shot Philando Castile during a traffic stop in 2016, was acquitted.
Dorcas Davies, an organizer of the March for Racial Justice, said on the event's website:
The reality is that these are everyday occurrences. Charlottesville was horrific, but it's not every day like that in Charlottesville. But for people of color, it's like this every day.
Here Are Some Of The Best Signs From The Day
The marches began in separate parks but eventually converged in front of the Department of Justice. Tanis said that the separate March for Black Women was necessary, since the March for Racial Justice organizers didn't want to include the case of Charleena Lyles, the pregnant black woman who was shot by police in Seattle this June, as The Seattle Times reported, as one of their issues. She also noted that she felt the Women's March in January ignored black women's issues.
But it wasn't just about police brutality. Tanis said the march had to include reproductive justice, sexual assault, poverty, health care and other issues that center around black women's lives.
Tanis told ThinkProgress, "We wanted to center those things and so I said, 'I'm going to do a march for black women and center and ground those things.'" Judging from all of the signs and pictures of the day, they succeeded in that mission.
Here's Some Video Of The Day
The March for Black Women was organized in part by the Black Women's Blueprint, BYP100, Trans Sistas of Color Project, and other groups. Along with Tanis, Bré Anne Campbell, Charlene A. Carruthers, and Monica Raye Simpson co-chaired the event. They wrote on the march's website:
Our March is not only a mass mobilization centered on Black women, but a reminder to every single one of us that so long as Black women are killed by the cops; so long as Black women are taken or go missing; so long as we are raped by friends or by strangers or by nationally renown predators — there can be NO JUSTICE.
An estimated 1,000 protestors marched towards the Justice Department chanting Black Lives Matter and "shame" on President Donald Trump. At the March for Black Women rally in Seward Square, one of the organizers informed the crowd, "We are at war against the patriarchy, we are at war against poverty, we are war against the police. And when there is war, there can be no peace."
Park Cannon and Renitta Shannon, two Georgia state representatives and members of the Georgia black legislative caucus, came all the way up to Washington D.C. to march with the women and lauded their choice to have a rally separate from that of the March for Racial Justice. Cannon told ThinkProgress:
I think it is a critical move that the organizers have done to center women who are black at this march. Black women continue to be at the table and we understand that, at times, we have to speak louder than others to be heard.
It was a successful march — and hopefully, their voices informed others of these important issues and reached those in power who can make change happen.
Watch Romper's new video series, Romper's Doula Diaries:
Check out the entire Romper's Doula Diaries series and other videos on Facebook and the Bustle app across Apple TV, Roku, and Amazon Fire TV.