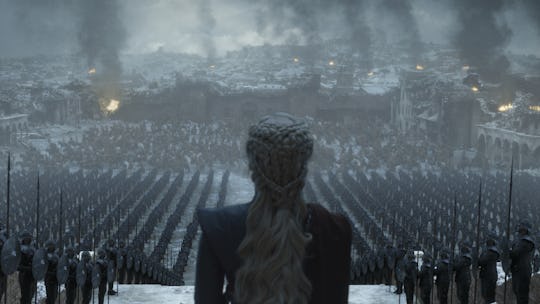 HBO
Fans Loved This Epic Daenerys Shot From The 'Game Of Thrones' Series Finale
Fans got precious few (two, to be exact) images from the final episode ahead of the series finale, but one particularly epic shot was worth the wait. Reactions to the shot of Daenerys with dragon wings on Game of Thrones prove she finally became the dragon Olenna Tyrell told her to be.
After Tyrion Lannister and Jon Snow surveyed the scope of Daenerys' destruction on their grim walk up to the Red Keep, they took their place beside her when she emerged to address her soldiers. Before the remaining Dothraki horde (who had recovered their numbers rather miraculously) and the Unsullied, the doors on the crumbling castle facade opened on Daenerys with her sole remaining dragon spreading his wings out behind her.
The visual effect of Daenerys with dragon wings was a striking one and fans were really into it, even if they knew she had devolved into full blown Mad Queen status at this point. Addressing her soldiers, Daenerys named Grey Worm her Master of War, and imprisoned Tyrion for treason. (Not that it mattered in the end, but tyrants gonna tyrant.) Even though fans weren't particularly impressed with how Dany evolved this season, it was hard not to feel the powerful impact of watching her embody her legacy.
Of course, Dany was not long for this world. Right after she proclaimed her armies would keep taking over the world in an effort to break the wheel, Tyrion and Jon were left with the unenviable task of figuring out what to do about her. Jon fought Tyrion tooth and nail on the idea of taking her out, and when he approached her in the throne room, it seemed like he was going to pledge continued loyalty, even after trying one last time to convince her of her wrongdoing. But Daenerys remained steadfast in her mission and so Jon pulled off one of the more surprising twists in the episode.
He did pledge loyalty, but only to get close enough for one last embrace before murdering his aunt. And despite his rightful claim to the Iron Throne thereafter, Dany's last dragon melted it down as his first act of grief. Daenerys' body got picked up in a massive talon and flown away, probably back to her ancestral seat at Dragonstone or maybe Valyria, but who really knows. Viewers never see her again.
It was a rocky road for Daenerys' character in the end, and one many fans were understandably upset about. Warring Twitter threads about whether her storyline was justified or not aren't in danger of going extinct anytime soon. But for Daenerys to have one moment in her final form right before being murdered for the good of the realm was obviously moving and unquestionably earned. Will the news of his beloved's death ever reach Daario Noharis? Will he embark upon a quest to Castle Black to kill Jon Snow for it? Fans won't find out, but there are plenty of questions left to debate after the end of this epic series.