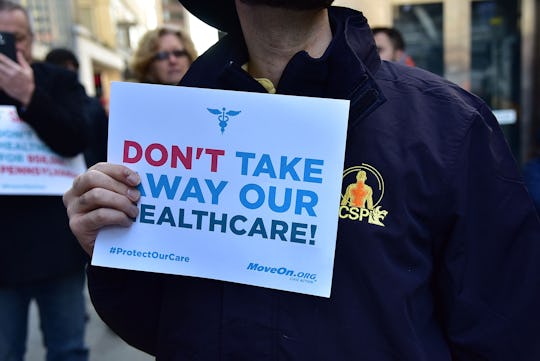 Lisa Lake/Getty Images Entertainment/Getty Images
States That Didn't Cover Pre-Existing Conditions Before The ACA
While President Donald Trump and the GOP attempt to pass the American Health Care Act in the Senate, many Americans are concerned about what this will mean for people who are considered to have a pre-existing condition. As U.S. Department of Health and Human Services points out, health insurance companies cannot refuse to cover or charge more from those who are considered to have a pre-existing condition under the Affordable Care Act. Obamacare was signed into law on March 23, 2010; Before then, it was up to the individual states to decide whether insurance would cover pre-existing conditions. Under President Donald Trump's proposed amendment to the ACA, however, individual states would once again be able to decide whether or not to cover medical costs for somebody with a pre-existing condition, so it's possible that the states that didn't cover pre-existing conditions before the ACA will once again choose to deny coverage if the Senate passes Trump's health care plan.
In addition to removing the ACA's mandate that insurance companies must not deny coverage to those with pre-existing conditions, under the proposed health care bill (which has yet to be voted on in the Senate, and will likely face a number of edits), ailments such as asthma, acne, c-sections, and postpartum anxiety are now all considered pre-existing conditions, if they weren't already before. Depression, menstrual irregularities, and pregnancy are just a few more examples of what Trump considers a pre-existing condition — and that could cost Americans their health insurance if states are once again allowed to deny coverage based on those conditions.
It's a scary prospect for those suffering from serious illnesses that require ongoing medical attention. So, how many states didn't cover pre-existing conditions before the ACA? Unfortunately, quite a few.
HuffPost reported that 35 states chose to run high-risk pools for people with pre-existing conditions who couldn't get private insurance before the ACA. (That's a whopping 70 percent of our country.) According to HHS officials, among others, some of the states on the list included:
Alabama, Alaska, Arkansas, Colorado, Connecticut, Illinois, Indiana, Iowa, Kansas, Kentucky, Maryland, Massachusetts, Minnesota, Mississippi, Montana, Nebraska, New Hampshire, New Mexico, North Dakota, Oklahoma, Utah, Wisconsin, and Wyoming.
High-risk pools are subsidized by the state government and allow insurance companies room to reduce premiums for those without pre-existing conditions. The biggest problem with high-risk pools is that they are extraordinarily expensive because, as HuffPost points out, "they're full of sick people with high health care costs." In theory, the government could keep costs down for all patients through high-risk pools by "funnel[ing] tons of taxpayer cash" into them. This doesn't seem to be the case with the GOP's new health care plan, however, because The Center for American Progress estimates that the bill falls $200 billion short to actually make high-risk pools work.
Before the ACA went into effect, many states used exclusion periods and elimination riders to avoid paying coverage for people with pre-existing conditions. States that utilized the maximum pre-existing condition exclusion period, which means they permitted elimination riders permanently excluding pre-existing conditions for individual plans, included:
New Mexico, New Hampshire, Colorado, Connecticut, Maryland, Mississippi, Montana, North Carolina, North Dakota, Ohio, Pennsylvania, Rhode Island, South Dakota, Utah, Virginia, West Virginia, Wyoming, Alabama, Florida, Georgia, Illinois, Iowa, Kansas, South Carolina, Tennessee, Texas, Wisconsin, Hawaii, Alaska, Arizona, Arkansas, Delaware, Louisiana, Missouri, Nebraska, Nevada, and Oklahoma.
The AHCA still has to be passed by the Senate before it can be implemented as a federal law. Until then, keep the above information in mind if you live in one of the aforementioned states — you might find yourself needing it again soon.