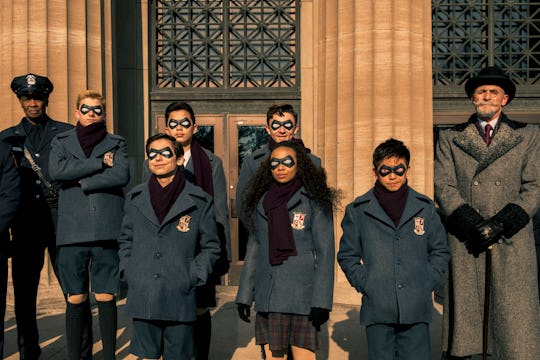 Christos Kalohoridis/Netflix
These Theories On 'The Umbrella Academy' Could Explain What Happens Next
Everyone is talking about Netflix's new series, The Umbrella Academy, and the Season 1 finale has left fans with tons of burning questions. The series — which is based on Gerard Way and Gabriel Bá's comic book series of the same name — ended its first season with a major cliffhanger, so fans are now piecing together clues to come up with their own amazing theories for The Umbrella Academy Season 2.
Warning: Spoilers for Season 1 of The Umbrella Academy ahead.
The series follows a group of seven siblings — Klaus, Luther, Diego, Allison, Ben (who is a ghost), Vanya, and Number Five — who were spontaneously born on the same day and then adopted by an eccentric billionaire named Sir Reginald Hargreeves. Each of the siblings has a super power, and their father trained them to use their abilities to save the world from harm. As a child, Vanya exhibited no special powers, so she was usually treated like the black sheep of the family.
Number Five, who has the ability to travel through time and space, travels to a future where the world has ended, and when he comes back to the present, he tells his siblings they have only eight days left until the apocalypse. The siblings find themselves trying to save the world, but when it turns out that their sister Vanya is the reason for the apocalypse, they end up being unsuccessful.
In the finale, the siblings use a magical briefcase to escape the world-ending meteor shower, so fans are dying to know where they went, and whether or not they'll come back and try to save the world again. Here are some Season 2 theories for The Umbrella Academy that could explain what will happen next.