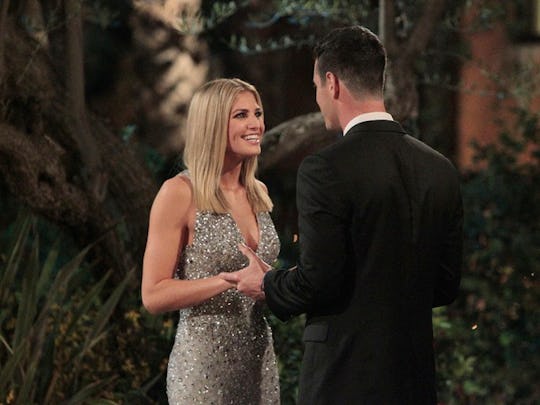 ABC
These Videos Of Olivia Caridi As A News Anchor Show 'The Bachelor' Contestant In A Whole New Way
This season of The Bachelor is already a roller coaster ride, in large part because of the lively (and often catty) contestant, Olivia Caridi. Caridi is in this game to win, but she left her career as a broadcast journalist to do it. Watching videos of Olivia as a news anchor, in her real life, it's almost like it's an entirely different person. Although Caridi can be a little aggressive when it comes to getting alone time with Ben, she's also one of the most confident women in the mansion. That's probably because she's used to being in front of the camera and telling everyone what's up. Just, now she's telling America how her and Ben are soulmates instead of breaking local news.
According to her ABC official bio, Olivia is a 23 year old news anchor hailing from Austin, Texas. Just before coming onto The Bachelor, she was anchoring local news in Virginia at an NBC affiliate. It's not clear that she's totally returned to her pre-show life, but on her own blog she answers some questions about her career. She tells fans (and foes), "I gave up my job to be on the show, but I did not give up my career." She's confident that she'll be able to find another gig at another television station when she needs to, " In TV news, we move often in the early stages of our careers," she writes. "Leaving for a new station or a new opportunity after a year or two is quite common."
Her Demo Reel Is Pretty On Point
There's This Piece On The Closing Of A College
She also has a whole portfolio of video segments and written articles if you start digging through her resume. She's been in the business for as long as she could be. After college, she went right into broadcasting. She's a go-getter: in two months she was promoted twice and read the news for NBC at 6 p.m., hopped over to Fox for the 10 p.m. news, and then back to NBC at 11 p.m. for the late news. That's pretty hardcore.
It's that brand of hardcore that makes Olivia a formidable contestant (and someone to put your money on if you're into that sort of thing). Olivia, by her own admission, is a hopeless romantic and while she's not scared of gossip about her toes or losing her job, she is scared of being alone. She told ABC that:
I don't fear much except ending up alone. I've been on my own so much and I'm so independent. I would hate to wake up one day with everything I've worked so hard for but there's no one in bed next to me.
Judging from her blog and the scope of her work, she's into having it all — a great career in journalism and Ben Higgins, that is.
Image: ABC;YouTube