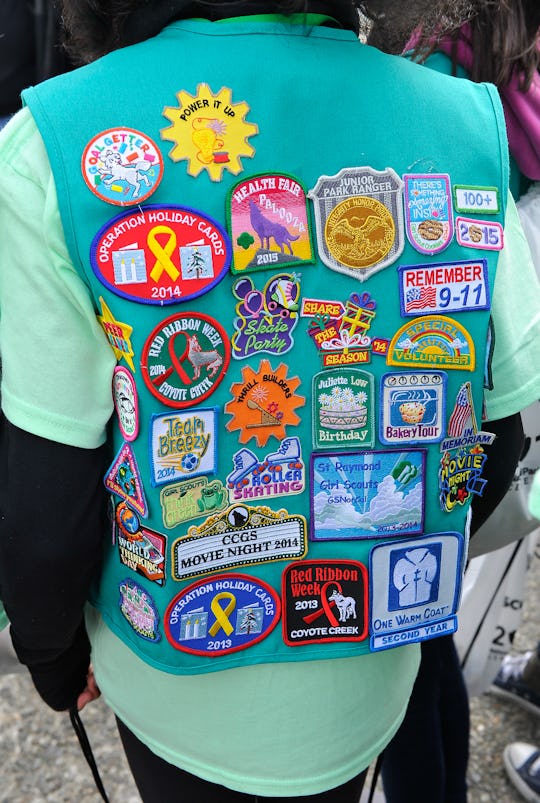 Steve Jennings/Getty Images Entertainment/Getty Images
This Girl Scout Is Encouraging Other Girls To Take Risks In An Inspiring Op-Ed
Alice Paul Tapper noticed that the girls in her class weren't raising their hands as much as the boys were, so, in a sense, she raised her own hand and did something about it. And on Monday, she got her ideas out into the world in a major way: the 10-year-old Girl Scout's op-ed encourages girls to take risks, and, oh yeah, it's published in The New York Times. That's because Alice — whose dad is CNN anchor Jake Tapper, NBD — worked to create a Girl Scout patch specifically designed to get girls excited about sharing their ideas, asking questions, and building their confidence in general in a world that so often seems to be dominated by boys when you're in grade school.
Alice's Raise Your Hand patch recently launched, and Tapper was quick to tweet about how proud he was of her last week. This, according to The Washington Post, led an editor from The New York Times to inquire about whether the fifth grader would be interested in writing about her experience. She was, because duh, and soon recounted the story of how she was "upset" during a recent fourth grade field trip when "all the boys stood in the front and raised their hands while most of the girls politely stayed in the back and were quiet" for all the world to see.
On the way home that day, Alice shared her concerns with her mom, as she wrote in the op-ed:
I told my mom that I thought girls weren't raising their hands because they were afraid that the answer was going to be wrong and that they would be embarrassed. I also think they were being quiet because the boys already had the teacher's attention, and they worried they might not be able to get it.
It was something, she later discovered, that every one of the dozen girls in her Washington, D.C. girl scout had noticed, too. And so the idea for the Raise Your Hand patch was born.
According to the website of the Girl Scouts Nation's Capital — the organization that the troop approached for help in making the patch a reality — scouts can earn the Raise Your Hand patch by signing a pledge to raise their hands in class to answer questions and ask them. Then, they have to recruit three other girls to do the same. The crux of it all is that the girls should take a risk, even if they're not totally sure that what they have to say is correct.
For Alice, that's incredibly important. Here's what she had to say about taking risks in her op-ed:
People say girls have to be 90 percent confident before we raise our hands, but boys just raise their hands. I tell girls that we should take the risk and try anyway, just like the boys do. If the answer is wrong, it's not the end of the world. It's not like answering a trivia question to win a million dollars on live TV.
In her op-ed Alice wrote that her mom "talks to me a lot about women's rights and how women are treated differently" and even named her Alice Paul after the famous American suffragette. Clearly, this girl has the background, education, brains, support, and drive to fight to continue advancing women's rights, and she's getting started early. This is one badass girl to keep an eye on, for sure, because who knows how she'll innovate next?
In the meantime, girls and women everywhere should take to heart Alice's advice to "have confidence, step up and become leaders" in their everyday lives, whether they're Girl Scouts or not.
Watch Romper's new video series, Romper's Doula Diaries:
Check out the entire Romper's Doula Diaries series and other videos on Facebook and the Bustle app across Apple TV, Roku, and Amazon Fire TV.