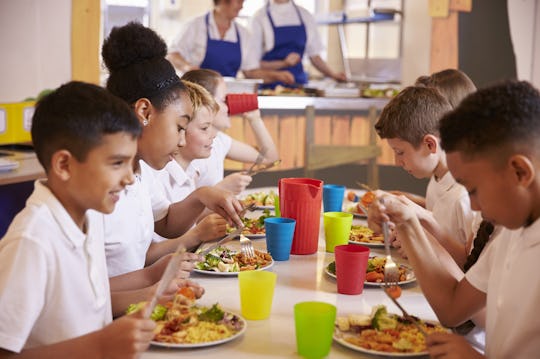 Monkey Business Images
This 11-Year-Old Is Raising Awareness For Kids With Food Allergies, And It's So Inspiring
Being a kid is tough. No matter how you cut it, childhood and adolescence are chock full of awkward moments, stressful situations, and growing pains.
Which makes it all the more disheartening that some kids suffer from food allergies in addition to these everyday obstacles. This, plus the social stigma and the constant dangers caused by lack of education on food allergies, means that lots of children face a whole set of life-changing challenges that non-food allergy sufferers couldn't imagine.
It was these kids that Elena Gallegos — the 11-year-old grand prize winner of the Jif® "Imagine If, With Jif®" Contest — was thinking about when she started Unicorn Kids, a fashion line that raises awareness and promotes safety for kids with food allergies.
The "Imagine If, With Jif®" Contest fuels kids' entrepreneurial and creative dreams by awarding grants to help them make the world a better place. After submissions are made, the public votes for their favorite ones, and the most original and feasible idea is chosen as the grand prize winner.
This year, that honor went to Elena Gallegos.
After spending her childhood eating strictly homemade snacks and struggling to make people understand the severity of her allergies, Gallegos and her family decided it was time to put an end to the lack of education and stigma that surround food allergies.
To her, the solution was straightforward: Since allergy sufferers look just like everybody else, why not create a visual aide to 1. help adults identify which kids suffer from allergies, and 2. make "allergy kids" feel special and like their differences are being celebrated, not ignored.
Unicorn Kids' t-shirt line spreads awareness and aims to improve food allergy safety and education in adults and kids alike. As grand prize winner, Gallegos received a $15,000 grant to expand her business and help improve the lives of food allergy sufferers everywhere!
Learn more about the important work that Elena is doing and share your own kids' inspiring stories here.
This post is sponsored by Jif®.