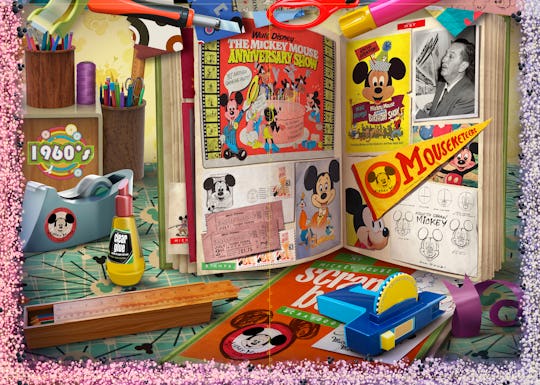 Ravensburger
Celebrate Mickey's 90th Birthday With This Epic 22-Ft Long, 40,000 Piece Puzzle
Turning 90 is a pretty big deal, especially when nonagenarian is none other than the world's most famous mouse. November 18 will mark the 90th anniversary of Mickey Mouse, and to commemorate this milestone, toy brand Ravensburger is unveiling the world's largest Mickey Mouse jigsaw puzzle. Featuring 40,320 pieces (no, that is not a typo) this massive puzzle is a true homage to the mouse who first stole hearts back in 1928 and who continues to be a "True Original" icon today.
Ravensburger's Mickey Through the Years puzzle is comprised of 10 individual Mickey puzzles (each with 4,032 pieces) that fit together to create one master Mickey puzzle that, when completed, measures a whopping 22 feet long and 6 feet wide.
Each individual Mickey puzzle, or panel, showcases a different Mickey vignette. "The Mickey Through the Years puzzle was created to represent the perspective of a life-long Mickey Mouse fan. The puzzle follows the beloved mouse's evolution through nine decades, creating a scrapbook for each decade of his career," explains Filip Franke, CEO, Ravensburger North America, in an interview with Romper.
Using hand drawn images, as well as archival photos and sketches from Walt Disney himself, the puzzle highlights everything from the Mickey's debut on Steamboat Willie, to the creation of the Mickey Mouse Club in the 1950s, and continuing on all the way to today's 90-year celebration of Mickey with all of his friends, Minnie Mouse, Goofy, Pluto, Donald Duck and Daisy Duck.
The sprawling puzzle was designed for ages 14 and older, and is available for purchases ($599.99) on Amazon, Disney.com, Ravensburger.com, and at specialty and hobby stores. As the world's largest Mickey Mouse puzzle, the company estimates it would take a whopping 600 hours to complete — or almost an entire year if you worked on the puzzle for two hours every day, not including weekends.
That's a pretty daunting task, even for the most diehard puzzle fans. Fortunately, Mickey Through the Years was designed so that you can work your way through it, panel by panel. "Each panel measures approximately 4.5 feet by 3 feet, and comes individually packaged for easy sorting," explains Franke, speaking with Romper.
Getting down to business and doing the puzzle is one thing, but how would one go about creating a puzzle of such massive scale in the first place? It turns out that this isn't Ravensburger's first record-setting puzzle. "Ravensburger worked with Disney to create our first 40,000 piece puzzle called 'Memorable Disney Moments.' Disney was so impressed with how it turned out that they approached us to create another 40,000 piece puzzle to celebrate Mickey's 90th anniversary, as they wanted to give Mickey the same royal treatment — in puzzle form," explains Franke.
For Mickey Mouse fans of all generations, the latest Ravensburger and Disney jigsaw puzzle collaboration promises to be a challenging but rewarding undertaking. When the final piece of the puzzle is dropped into place, the masterpiece deserves to be hung up as art, that is of course, if you can find enough wall space for it! You'll also want to make sure you have enough wall support for it, since it weighs 50 pounds in all!
Now that's one epic puzzle.