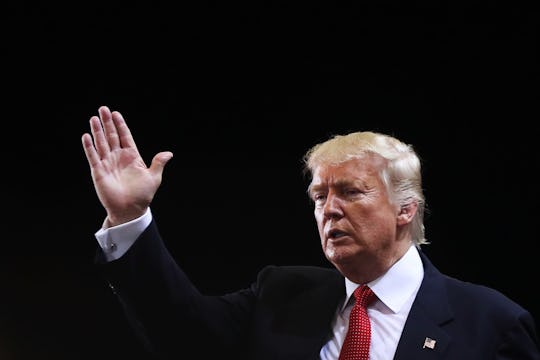 Spencer Platt/Getty Images News/Getty Images
This 6-Year-Old's Debate Question Could Be A Make Or Break Moment For Donald Trump
Donald Trump has made statements and answered plenty of questions from the media and concerned voters about the controversial views and policies he would attempt to enact as president. Of those policies, the Republican candidate has received an abundance of criticism for his stance on immigration, a central issue of this year's campaign. And because of his immigration views are quite questionable, a Trump presidency is a scary thought for a large portion of the United State's population. But it's this 6-year-old's presidential debate question that could ultimately be a make or break moment for Trump, at least in terms of the Latino vote. According to The Hill, the young girl is hoping the GOP nominee will soon answer the question, "If you deport my parents, what happens to me?"
The insightful question was submitted by 6-year-old Sophie Cruz for the upcoming second presidential debate on Sunday night, which will be a town hall-style debate Throughout the night, Trump and Democratic nominee Hillary Clinton will answer questions from the voters directly, and Cruz — along with the thousands voting for her submission online — hopes hers will be one of those addressed.
"If you deport my parents, what happens to me?" Cruz's question reads on the Open Debate Coalition website, according to The Hill. "I am 6 years old and an American citizen. I have a 3-year-old sister who is also an American. My heart is very sad, because I'm scared that ICE is going to deport my undocumented mommy and daddy."
It's likely that Trump will have had time to prepare to address this very important issue as Cruz's question has been getting a lot of attention on social media ahead of the debate. Many immigration activists, as well as hip hop legend Russell Simmons, have shared the submission on Twitter to urge others to vote for the question to be asked on Sunday night.
Cruz's question is one of more than 11,000 posted to the voting site, and as of Thursday evening, the 6-year-old's question had more than 14,000 votes. According to the site, moderators from ABC and CNN have agreed to consider the top 30 questions to be included at the second presidential debate.
There's a future in immigration advocacy for Cruz. Even before her question made headlines, according to The Washington Post, the California child gave Pope Francis a letter in Spanish during his recent papal visit, which in part read, "My friends and I love each other no matter our skin color." The letter later sparked a conversation about deportation.
On Cinco de Mayo, Cruz was invited to the White House by President Obama, and was referred to as a "champion of immigration reform" — but her parents couldn't join her because they were undocumented, according to The Hill.
Trump has faced criticism since the beginning of his candidacy for his controversial views on immigration, which include building a wall between the United States and Mexico, enforcing a total ban of Muslims entering the country, and deporting millions of undocumented immigrants.
It's one thing to mislead a reporter during an interview or to completely avoid answering a question at a presidential debate, but to not truthfully and fully answer this 6-year-old's question could be a defining moment for the Trump campaign and undecided voters. For those tuning in on Sunday night, all eyes will be on the debate stage to see what happens next.