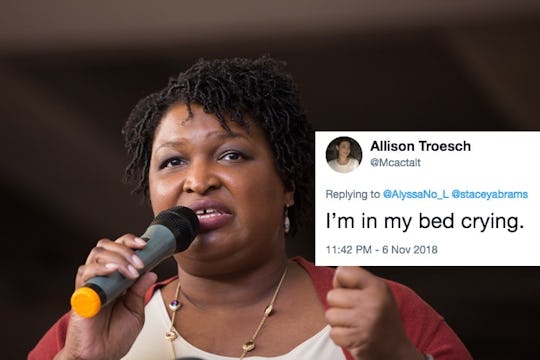 Jessica McGowan/Getty Images News/Getty Images
Why This 73-Year-Old Man Gave Stacey Abrams Flowers Is Making People SO Emotional
Despite current polls indicating Republican candidate for governor in Georgia, Brian Kemp, has enough votes to win, Stacey Abrams, the Democratic candidate, has refused to concede. The fight is not over yet and her messages of hope especially ring true with this story. On Tuesday, a 73-year-old man presented Stacey Abrams with flowers for all of the people who witness her accomplishments or vote themselves.
The 2018 midterm elections marked a "historic year for voter turnout," according to TIME. But, at the same time, many people in the United States were unable to vote for the candidates they wanted to see in office for a number of reasons. Firstly, there is voter suppression in Georgia, according to The Atlantic, with 1.4 million voters reportedly purged from voting rolls since 2010, according to the Atlanta Journal-Constitution. But others couldn't vote simply because they're no longer here to vote and see the progress made by candidates.
As such, on Tuesday, a 73-year-old Georgia resident named Charlie Matthews presented Abrams with a bouquet of roses during a campaign stop at a restaurant, according to BuzzFeed News. The bouquet of roses was presented to Abrams for one very important reason: It was a gift on behalf of the women in his family who died and could not see how far Abrams had come in the race for governor, according to BuzzFeed News.
I'm not crying, you are.
There are ways that people can leave their mark on this nation and one of those ways is by voting for the candidates they believe in — even once they're gone. Despite her projected loss in the race for Georgia governor, according to CNN, Abrams is one of those candidates who has already made her mark on this nation.
This past May, Abrams made history when she won the Democratic primary for the governor of Georgia, according to The Nation. Her platform to provide affordable housing and high quality, affordable education to Georgia residents inspired so many celebrities to spread her message and try to get people to vote for her, like Oprah, according to Reuters. If Abrams were to get elected on Tuesday, she would have been the first black woman governor ever in this nation, let alone the state of Georgia, according to The Nation.
Because of this easy to see why Matthews would give Abrams flowers in honor of the people who couldn't see her make history. This, in turn, has caused people on Twitter to get very emotional about this gift.
As some Twitter users stated, this was such a beautiful way for Matthews to pay tribute to the women who came before him.
Although the Republican candidate for governor, Brian Kemp, narrowly edged out Abrams to win the race, according to CBS News, Abrams stated in her speech after the results came in that she isn't going to give up just yet, according to NPR. Especially since there are "thousands of absentee ballots" that need to be tallied, according to CBS News.
"We believe our chance for a stronger Georgia is just within reach, but we cannot seize it until all voices are heard," Abrams said on Wednesday morning. "And I promise you tonight, we are going to make sure that every vote is counted. Every single vote."
Because of this, Abrams is not yet conceding in the election, according to CNN.
Although Abrams is projected to have lost the election, it doesn't make her campaign any less significant. In Georgia, early voting reached record highs compared to previous midterm elections, according to the Atlanta Journal-Constitution. If this election had that kind of power, it's likely that future elections will do the same — and hopefully the people who voted for Abrams will still be around to witness that.