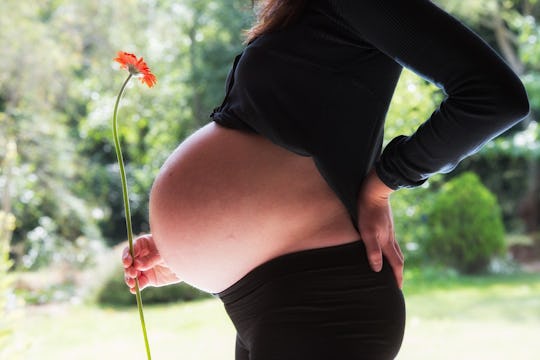 Pixabay
This App That Studies Postpartum Depression Could Help Women Everywhere
When my daughter was six weeks old I knew something was wrong. I was screaming and crying, miserable and scared. Anger dominated most days, and anxiety took hold most nights. But I thought things would get better: I would just get better, because while I knew something was wrong, I didn't know what was wrong. (I chocked my erratic feelings and suicidal thoughts up to sleep deprivation, and shitty eating habits.) I didn't "ask for help" until my daughter was four months old, and I didn't receive a diagnosis until she was five months old, but I had postpartum depression. It took forever to hear those words and to begin to feel relief, and I still haven't stopped speaking out and urging people to get the care they need. That's why I hope a new postpartum depression research app could help change the face of postpartum depression.
The app is called PPD ACT and was a collaboration between Postpartum Progress, the University of North Carolina School of Medicine, Queensland Brain Institute, the National Centre for Mental Health (UK), and Apple. While the premise of the app is simple — PPD ACT "aims to understand why some women get postpartum depression (PPD) and others do not," according the app's official webpage — it could not be more important. Because in order to better understand postpartum depression, postpartum anxiety, postpartum psychosis, and perinatal mood disorders, researchers need information. They need facts. They need statistics. And while the app is a research tool and not a diagnostic tool, those involved in the project hope the data collected from the study will help medical professionals better detect, prevent, and treat postpartum and perinatal conditions in the future.
The study, which began Monday, is hoping to garner at least 100,000 participants/survivors. That may seem like a lot, but when one considers how many "warrior mamas" and survivors there are — one in eight mothers will experience postpartum depression, postpartum psychosis, or another maternal mental illness — it seems more than plausible, it seems possible. It is realistic, and I am hopeful.
Current and former postpartum depression, anxiety, and psychosis patients can download PPT ACT for free on their iPhones or iPads. And, according to Katherine Stone of Postpartum Progress, the study is working on adding other "access points" for those that do not have Apple products.
As for me: I do have an iPhone. Not only I am downloading PPD ACT right now — like right now — I am going to share it with every mom I know. Because we, PPD survivors and warrior moms, can make a difference. We can make our voices heard and help make a difference