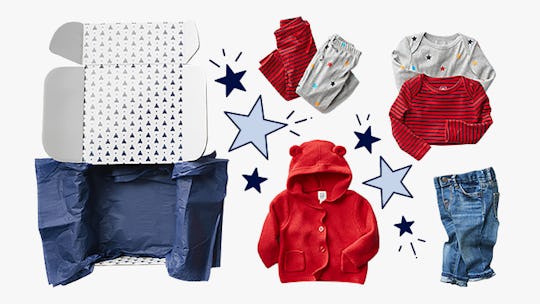 Photo: Courtesy of babyGap; Design: Victoria Warnken/Romper.
This Baby-Clothes Subscription Is Game-Changing
There's no question that shopping for baby clothes is one of life's most adorable experiences. Poking around in a store for miniature dresses and tiny pairs of stretchy denim is never anything other than pure bliss, but then again, there are roughly three dozen more productive ways you'd rather be spending your precious time. And wouldn't it be nice to know that at least one item on your to-do list is always checked? Well, babyGap hears all of the busy, stylish moms of the world loud and clear, and their solution to this problem is nothing short of true genius.
Allow me to introduce you to the babyGap Outfit Box, aka your new go-to source of seasonal, practical, and totally adorable outfits for babies ages 0 to 3 years old. The process is simple: You start off by taking a quick survey, which essentially creates a profile of information to help ensure babyGap sends you clothes that seamlessly match your kid's personal style. Once you complete the survey, you finish your checkout, and then your first box ships right away. It really is that fast.
We're loving this idea as a gift for busy, fashionable moms who would love you forever for freeing up that extra hour in their packed schedule when they're normally be running to the store for new baby clothes. And if you're one of these moms yourself, feel free to start dropping this link into your friend's and family's inboxes, along with your survey answers. They'll take the hint.
Laura Lacquer, founder of A Little Bit Of Lacquer (and dermatology resident and mom of three), dressed her 8-month-old daughter, Ro, in an outfit from the babyGap Outfit Box.
The rest is pretty straightforward. Every three months, you receive a new box, which contains six mix-and-match pieces that are specially selected and valued at over $100 (you only pay $70). You're given 21 days to check out the clothes, and whatever you decide you don't want or need, you're welcome to send back for a full refund — and shipping is free. If you choose to continue your membership and keep receiving quarterly shipments, babyGap will automatically increase the clothing size with each box to make sure you're always getting seasonal outfits that fit your little one. Currently, the service offers clothing for babies from sizes 0 to 3T, with 4T rolling out in February 2018.
Now the only remaining question is this: Whatever will you do with all of that extra time (and cash) you just saved? My vote is for a well-earned nap, but of course, I'll leave the big decision to you.
This post is sponsored by babyGap.