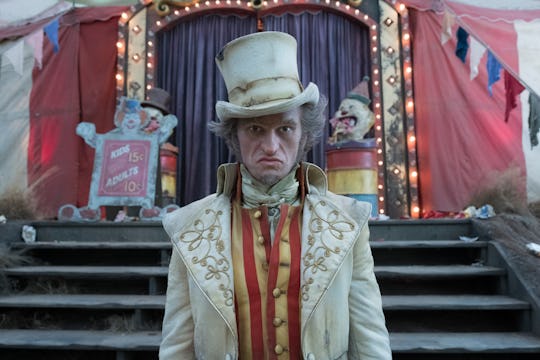 Eric Milner/Netflix
This BTS Video From 'ASOUE' Season 2 Provides A Sneak Peek At All The Trouble To Come
There's a ton of anticipation surrounding the new season of A Series of Unfortunate Events, which will be available for streaming on Netflix starting on March 30. But luckily fans have something to tide them over: this behind-the-scenes video from ASOUE Season 2 will give viewers a glimpse at the terrible, horrible, and — dare I say it? — unfortunate events that will soon befall the Baudelaire children as Count Olaf attempts to capture them at every turn. The video also hints at new characters and upcoming storylines on top of featuring interviews with key cast members. And that's not unfortunate at all. (OK, fine, I'll stop now.)
The clip contains countless lightning-fast shots from Season 2, each going by so quick that only the most dedicated and informed fan (with their finger ready on the pause button) could connect all the dots. Book readers will likely recognize the sights and scenes instantly, though there's hardly enough in the brief video to get a real sense of the show's interpretation of events. Interspersed between all those spoilers are special interview segments with the three leads: Neil Patrick Harris, who plays the villainous Count Olaf; Malina Weissman, who plays Violet Baudelaire; and lastly Louis Hynes, who plays her brother Klaus. It seems baby Sunny could not be reached for comment, though she can be spotted in the video looking as adorable as ever.
All three actors promise increased danger and heightened stakes. From the look of the behind-the-scenes segment, Season 2 of ASOUE is going to deliver all that and more, while also further proving that Count Olaf truly is a master of disguise.
"Season 2 is just a huge cacophony of enormous characters, enormous plots," Hynes tells fans in the video. "All of it's just funneled through the Baudelaires still trying to evade Count Olaf." The second season takes ten episodes to adapt five books from the series by Daniel Handler (written under the pseudonym Lemony Snicket): The Austere Academy, The Ersatz Elevator, The Vile Village, The Hostile Hospital, and The Carnivorous Carnival.
Nearly all of those various settings can be spotted in the behind-the-scenes video. There are shots of the Baudelaires in uniform at the Prufrock Preparatory School, walking into some kind of Western saloon, in danger at a hospital, and escaping a carnival. Olaf's continued pursuit reveals costumes even more outlandish than the ones he sported in Season 1. It's all a little familiar but different at the same time. As Harris states:
It's cyclical. The same thing kind of keeps happening to these kids. Terrible situation after terrible situation and then Count Olaf comes in. And then they somehow manage to escape and then they're sent to someone else and they go through the same process again.
However, as he went on to say, the Baudelaire orphans do learn that they "have to take control of their own lives." Joining in the action means taking on some disguises of their own, though it doesn't seem to save them from much trouble. The video shows the kids falling down an elevator shaft, as well as a newspaper declaring all three are murderers on the lam. As Weissman reminds viewers, "Nothing good happens, ever."
That includes meeting a handful of new caretakers who are no better than the ones they left behind. New characters include Lucy Punch as Esmé Squalor and Tony Hale as her husband Jerome. Nathan Fillion also joins the cast as Jacques Snicket. The role will reunite him with his old Doctor Horrible's Sing-Along Blog co-star Harris, provided Fillion's character crosses paths with Olaf, which I'm sure he will. Regardless of who shows up in Season 2, Weissman assures fans that none of the adults will be of any help, saying:
We just find the worst guardians, the worst circumstances that are happening, the worst things that are being thrown at us that we have to deal with by ourselves because there's no adults that help us.
The video also guarantees that the Baudelaires will learn more about their parents' fiery demise as well as the shadowy organization they belonged to while they were alive. It seems like clues will collect throughout the season, though one imagines the Baudelaire children will finally reach some conclusions too. Hynes explains that their complex family history was important to the kids and they felt the need to uncover more of it, though that (of course) "leads to more unfortunate events." This show certainly knows how to stay on brand.
The Baudelaire orphans have become more capable after everything they've gone through, but their journey is far from over yet. Their new obstacles will be unlike any they've faced, so they're going to need to have their wits about them to come out of it victorious. If the series will even allow for so much hope.