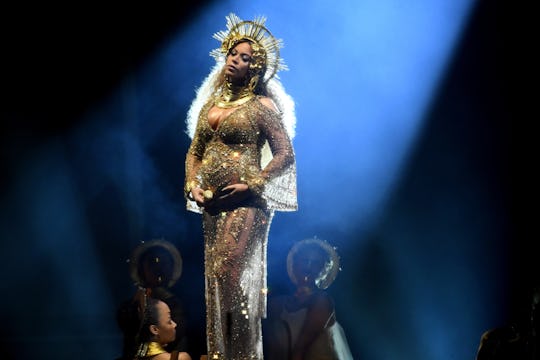 Kevork Djansezian/Getty Images Entertainment/Getty Images
This Beyonce Fan Got Rumi & Sir Tattoos, & They're A Little... Freaky
Beyoncé's fandom is among the most rabid in the world, but one man has taken it to the next level — permanently. It's one thing to be enamored with the talented singer, but this fan's Beyoncé-inspired tattoo makes it clear that his devotion would even shock the Beyhive. Fans have seen exactly one picture of Queen Bey's 7-week-old twins, but that was good enough for one unidentified man to dedicate some pretty prominent real estate to the famous offspring.
This is notable for two reasons: first, Beyoncé and JAY-Z don't even have tattoos in honor of their kids, although they do have matching Roman numeral tattoos on their ring fingers. I'm not saying this guy loves those babies more than their own parents do, but hell, Blue Ivy is 5-and-a-half, and they still haven't gotten around to getting more ink. They could bang out all three kids' names in under an hour, if they wanted to. It also begs the question, is this dude in violation of the rumored trademark on the Carter twins' names? Theoretically, he should be fine if he doesn't profit off the tattoos, but the artist who did them might be a little worried.
For fans who aren't tattoo-level interested in Sir and Rumi, but still mildly curious, here's everything we know about them to date, which is still very little, because Beyoncé is not the type to blog about her placenta:
They Might Be Moving To Bel-Air
...although not with their auntie and uncle. According to the Los Angeles Times, the Carters are in talks to buy this sprawling $90 million Bel-Air mansion that looks more like an airport than a family home. In addition to that giant outdoor staircase and four — count 'em, four — unfenced swimming pools, the Times reported that the manor also features glass walls, which sounds like an absolutely terrifying place to raise three young children.
They Might Have Hit A Milestone Already
Hollywood Life claims that a "source close to the couple" told them exclusively that Rumi and Sir are already smiling. Specifically, that "Rumi, smiled first a few days ago and then her brother, Sir, smiled shortly after that." But would someone who's actually close to the Carters really talk about their friends' kids to a celebrity news website? And do we honestly believe that when the power couple witnessed this achievement, "both erupted in tears"? I mean, I still cry every time I see that stupid commercial with the high school sweethearts doodling on gum wrappers, but I don't recall crying when my kid first smiled. Seems a little off-brand for JAY-Z, no?
Rumi's Name Has A Double Meaning
If you're like me, you reacted to the revelation of Rumi's name the same way a dog reacts to that old trick where you pretend to throw a tennis ball. In a word, "Huhhhh?" It turns out that she was named after a (male) 13th-Century Persian poet, which makes me feel about as cultured as that hypothetical dog. But here's the best part: the actual meaning of the name in Farsi is Rome, or... West. West! I need to know how the Carters' frenemies feel about that, and I need to know yesterday.
They May Or May Not Have Six Nannies
OK! magazine recently claimed that the Carters have hired six nannies to take care of the twins, and each will be paid $100,000 a year. This is in addition to two nannies already tasked with taking care of Blue Ivy. The explanation is that the twins' sleep schedules are at odds, and each nanny will work an eight-hour shift. None of this has been confirmed by Bey's representative and is entirely speculative.
And They're Probably Not Wearing Jewelry Yet
Beyoncé was spotted shopping for rings at Beverly Hills jeweler XIV Karats last week, and E! News reported that "a few were very small, so it's possible they could've been gifts for the babies." No! That is an incredibly dangerous idea and I refuse to believe that eight highly-paid professional caregivers (that might not exist) would ever allow it.
We Finally Have A Confirmed Birthday
The Carter twins' date of birth was never officially announced, and for about a month, is was assumed to be June 16 or 17. Then on July 14, Beyoncé posted an Instagram photo captioned, "Sir Carter and Rumi 1 month today." So that settles it; they were born on the 14th, right? Wrong. Maybe she was sleep-deprived and lost track of the date, but the twins were actually born on June 13, according to a birth certificate obtained by both People and TMZ, the latter of which noted that they were delivered by the same doctor as North and Saint West, as well as Dream Kardashian.
Best of all, that means that the twins don't share a birthday with President Donald Trump after all. Instead, they were born the same day as the Olsen twins. If that's not a sign of their future success, I don't know what is. Oh, right, maybe the fact that some rando has already gotten tattoos of their names. That's something.