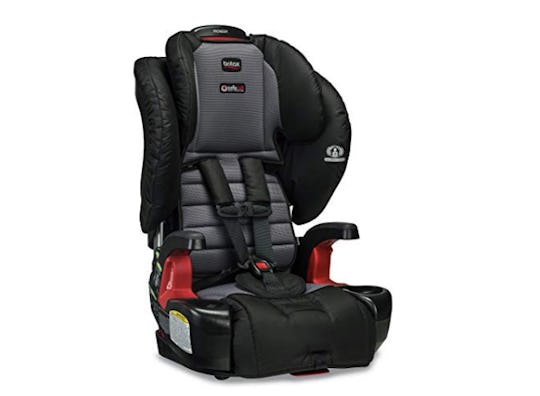 Amazon
Amazon Prime Day Is Over, But Britax Is Keeping Their Sales Going All Week
In case you haven't heard, Amazon Prime Day is kind of a big deal. Shoppers make a list and check it twice to score deals on home tech gadgets (hello, Alexa), toys, gaming systems, gift cards, and loads more. For 2018's big event, the bulk deals were scooped up on July 17. For parents, it might have also meant scoring some deals on baby gear, like car seats and strollers. But if you missed the deals or simply took too long to decide, then you might be thrilled to learn that Britax is keeping their sales going all week.
That's right: From now through Sunday, July 22, Britax is keeping the deals going strong with discounts on the following items (while supplies last):
Whether you are expecting your first child and still need to pick up a car seat or it's simply time to get a new stroller, then you might want to read on. Because the beauty is really in the details when it comes to these baby gear deals.
First up is the Britax Pioneer in Ashton (which is the color of the car seat). The Pioneer ($190, Amazon) is a combination harness-2-booster car seat, meaning it's exactly as it sounds: The car seat transitions from a harness to belt-positioning booster to accommodate the jump from toddler to big kid. You use LATCH connectors or the vehicle seat belt to secure the car seat, and your little one will be surrounded by safety features, including two layers of side impact protection and a steel frame.
There is also a deal on the Britax B-Mobile in Raven stroller, which is all kinds of sleek (and affordable).
The Raven ($160, Amazon) folds to a compact design and features a hands-free carry strap that makes it easy to manage when you're juggling an additional 89 gajillion things. You know there's the diaper bag and, of course, the sippy cups, snacks, and those tiny toys that your child just absolutely needs and adores. The stroller also reclines to a near-flat position which is great for a sleeping babe, and it's compatible with all Britax infant car seats.
Britax was keeping the deals going on two other items (the Pioneer in Domino and Marathon ClickTight in Ashton), but they have already sold out and are now only available from third-party sellers. Which really means one thing: Get. Moving. These deals clearly aren't going to hang around while you take your good ol' time with making a decision.
Because if there's one known fact in this Amazon Prime world, it's that customers take their deals seriously. In fact, when Amazon's website crashed on Monday during peak Prime Day shopping hours, people had some pretty hilarious (and hilariously serious) reactions to the outage.
Some people even said to h*ll with the cute dogs plastered on error pages, noting that Amazon would not fool them with cuteness overload. Becca wrote, "Amazon thinks they can put pictures of corgis on their crash page to offset the pure anger of everyone attempting to prime day shop. Ain't gonna happen." Becca wasn't having it.
Others were maybe a tad upset, but seriously worried about how Amazon's IT team might be struggling:
Then again, some people had a good sense of humor about the crash, maintaining that it was keeping them from spending their entire paycheck on the deals.
"God bless Amazon's IT department," @Orange_White joked. "I was about to go on there and buy some stuff that I had no business buying.
The point? Don't wait to take advantage of these last-minute deals from Britax. Otherwise, you might find yourself hating on a cute Chihuahua.